Cartagena, Colombia
October 27, 2007 - January 10, 2008
In the last report we had just completed our journey from Aruba to Cartagena, Colombia. Our eventful week-long cruise along the Colombian coast enabled us to experience a few of Colombia's spectacular anchorages while waiting for good weather.
It seems that long open-water passages to the next major destination have now become "yacht delivery jobs" more so than the spiritual journeys we experienced in our first year of cruising.
Dare I even admit it? Open sea sailing has become rather pedestrian after three and a half years. I can say with relative certainty that we are not "voyagers" and see no appeal in spending weeks at sea just for the sensation of so doing. I guess it would be different if we had something to prove, or if we were seeking some sort of validation or accreditation, etc. But, we are just simply out here to have fun, nothing more -- nothing less.
Please don't misunderstand me, however. The adventure and excitement of arriving at a brand new port is still as spectacular as ever. It's just that the "getting there" part is starting to "lose a little shine" and can be "count-the-hours-boring" sometimes.
We were fortunate on the trip from Aruba to Cartagena. It was not the usual, boring yacht delivery job. Instead we experienced both thrills and chills, and both good and bad aspects of real adventure. More importantly, we experienced it all without getting nicked.
And while all those micro adventures unfolded along the way, we were still wondering about the macro issue at hand: what will Colombia and Cartagena really be like? Is it really safe to go anywhere in Colombia? Are we doing the right thing? What about cocaine producers/smugglers and the guerilla fighting between political groups like FARC? For decades, movies, books, and news agencies have scorched into our minds an image of Colombia that is utterly forbidding and dangerously violent.
Just before we departed Bonaire, friends Walt and Honoree Cooper aboard yacht Will-o'-the-Wisp lent me the DVD "Pablo Escobar, King of Cocaine." It is a documentary about Escobar and his acts while heading one of the most notorious Colombian drug cartels.
The program compared Escobar to Hitler and recounted all of the unthinkable acts of mass murder committed by Escobar's organization such as assassinating Supreme Court Justices and blowing up airliners full of innocent people. After watching that program, it seemed that there was not one square foot of Colombia that was safe.
All these issues were still lurking in our minds as we made our final approach into Cartagena Bay and these same issues sprang to the forefront of our minds again when we saw pump shotgun-toting uniformed guards walking the docks in the Club de Pesca marina in broad daylight. Hey, you don't see that in Ft. Lauderdale!
So, with the stage set, let's get to it! What about this place called Colombia?
As we all know, a little history goes a long way toward making up your own mind about a destination. So, before we get to the trip report proper a small overview of Colombia and Cartagena is in order.
Colombia fast facts (per wikipedia.com):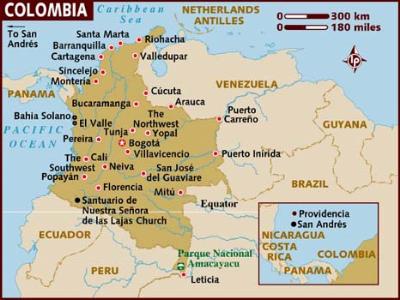 The name Colombia is a derivation of the name, and reference to lands discovered by, Christopher Columbus.
And don't you DARE misspell it. It is Colombia, not Columbia. Nothing will incense a Colombian more than misspelling the country's name!
Amerindians initially inhabited Colombia and said cultures date back to 10,000 BC. Spain began its conquest and development of Colombia in the very early 1500's.
Simon Bolivar played a pivotal role in leading Colombia (and the entire region of northwestern South America) to independence from Spain in the early 1800's. Bolivar was the first President of Colombia (the country included much of northwestern South America at the time).
Bolivar is the Latin American counterpart of U.S.A.'s George Washington.
Colombia is the 26th largest nation in the world and the second largest Spanish-speaking population in the world (Mexico is the largest).
The population of Colombia was 43.6 million in 2000.
58% of the population is Mestizo (Amerindian and European mix), 20% European and 14% Mulatto.
The literacy rate is 94%. YES, an amazing Ninety Four Percent!
The population is predominately Roman Catholic (90%).
It is the fourth largest country in South America and roughly twice the size of France.
It is recognized as a country that is more industrialized and undertakes more manufacturing than any other South American country.
Colombia is the number one exporter of plantains in the world. It is also the number one manufacturer of fine lingerie for Latin American markets.
Colombia's income is derived 41% from manufacturing; 28% from petroleum, and only 6% from coffee.
Delightfully unexpected: Colombia is the largest manufacturer of "pop up" books in the world.
Colombia is definitely on the rise economically and is reported to have the most Extreme Emerging Economy on earth.
And while the economy is currently flourishing, two groups of armed guerilla forces continue to exist in Colombia and these paramilitary forces still maintain insurgency campaigns against all successive Colombian governments. The two guerilla forces are: 1) The Revolutionary Armed Forces of Colombia (FARC); and, National Liberation Army (ELN).
Drug trafficking continues to be a major industry; however, the Colombian government has undertaken new efforts to try and eradicate the trade.
Colombia has been a "country at war" off and on for centuries.
In 1863, there was a civil war in Colombia. Another civil war erupted in 1899 and lasted until 1902 (dubbed the Thousand Day's War).
From 1940 to 1950, yet a third civil war broke our after presidential candidate Jorge Eliecer Gaitan was assassinated and subsequent riots broke out in Bogotá and spread throughout out the country. Approximately 180,000 Colombians died in that conflict alone.
Thus, in 1950, while we were enjoying post WW II affluence in the U.S.A., Colombia was still in the throws of a decade-long civil war. And there was more conflict after that.
The Colombian civil wars came to an end in the mid 1960's when the two main competing political parties agreed to the "National Front" agreement of joint government. Thereafter, the guerilla groups of FARC and ELN formed and remained opposed to Colombian government authority.
Before Colombia could even catch its breath from decade after decade of civil war, the cocaine trade blossomed, beginning in the 1970's. By the 1980's and 90's, powerful drug cartels were formed, one of which was lead by Pablo Escobar.
During this period, Colombia had the highest murder rate in the world. Between 1992 and 1999, two thirds of the entire world's kidnappings occurred in Colombia alone.
Escobar and others are believed responsible for the murders of various political officials, including Supreme Court Justices, in the effort to change Colombian law so as to prevent extradition and insure the protection of drug cartel members from the U.S.A.'s efforts to prosecute drug smugglers, etc.
The new 1991 Colombian Constitution did in fact prohibit extradition.
There has been as many as 300,000 acres of coca plantations in Colombia and as many as 430,000 metric tons of cocaine has been produced annually.
With a shockingly violent history of non-stop civil war, civil unrest, guerilla warfare, drug wars, kidnapping, and murder, it is hard for anyone to imagine that Colombia can finally escape such a notorious past and become a stable, peaceful country.
Against all odds it appears Colombia's time has come. Things have improved dramatically as of late. The current President, Allaro Uribe, has undertaken zealous campaigns against cocaine production and also undertaken increased action against the ELN and FARC guerillas, making real headway in reducing the effects of these two primary and perpetual plagues in modern Colombia.
In 2006, the Colombian government destroyed 180,000 acres of coca fields. Also, main highways have been cleared of guerilla threats, providing safe travel through main conduits passing through rural areas.
FARC and ELN forces have been "beat back into the bushes" and reportedly have a greatly reduced presence in the metropolitan areas. Impressively large "dead or alive" cash rewards have been offered for the capture of various FARC leaders all of whom have been designated as "terrorists" by the Colombian government.
Colombia's murder rate has now fallen significantly, and is now lower than the murder rate in South Africa, for example.
Meanwhile, under the wild and bizarre leadership of President Hugo Chavez, neighboring Venezuela's murder rates are alarmingly on the rise.
As an aside, not long ago I read that Venezuelan government officials are demanding that Chavez undergo psychological testing. They claim he's psychotic, pointing to, among other things, Chavez's obsession with exhuming the body of Simon Bolivar for the purposes of proving Chavez's wild plot that Bolivar was in fact murdered and did not die from natural causes as reported.
So, while Venezuela "augers in" under Chavez's administration, Colombia, like the Phoenix, is rising fast under Presidente Uribe's successful administration.
And word is getting out.
In 2006, Colombia enjoyed a 50% increase in tourism and Lonely Planet travel guides ranked Colombia in the Top 10 tourist destinations in the world.
The physical landscape of Colombia is equally as dynamic as its past political landscape.
The Pacific coast of Colombia ranks as one of the rainiest places on earth, with over 200 inches of rain annually. Other regions are savannahs with hot flatlands and rainfall of less than 30 inches per year. Mountain ranges rise to 20,000 feet with permafrost and perpetual snow thereon. There are 15 major volcanoes in Colombia and earthquakes as a result. Colombia is ranked as having the 17th most diverse climate in the world.
That is but a scratch of the surface. Colombia's history is a fabric of many threads and beyond the scope of anything we can cover here.
So, let's move on and review a few facts about the city of Cartagena!
Here is an introduction to the lay of the land.
Immediately upon its settlement in 1533, Cartagena de Indias (not be confused with Cartagena, Spain), was a success!
It was a major port for more than two hundred years prior to the U.S.A.'s independence in 1776. To put it further in context, New Orleans, Louisiana, is one of the oldest cities in the United States, but it was not founded until 1718, almost 200 years after Cartagena was founded.
Accordingly, Cartagena is a very, very old city by New World standards and Cartagena has a rich history to prove it.
The early years of the city were plagued by pirate attacks. A perfect target, Cartagena was rich in trade from the very start. Amazing amounts of gold and emeralds were found in Colombia and those precious goods began streaming back to Europe along with stories of Colombia's vast riches. As one would imagine, as soon as the news hit Europe, pirates flocked to Colombia and the port of Cartagena.
In 1544, French pirate "Roberval" routed the city. In 1559 Frenchman Martin Cote did the same. Sir Francis Drake was next to hit Cartagena with a pirate raid, demanding gold and emeralds (one reported to be the size of a fist) before releasing the city. In 1568, John Hawkins attacked the city and in 1697, Frenchmen Pointis and Jean Du Casse routed Cartagena yet again.
Spain finally had enough. The Spanish Crown ordered the fortification of Cartagena.
The effort took 208 years and included a complete wall around the city, an amazing multi-level fortress within the city, and an underwater wall across the large mouth (Boca Grande) of the bay.
The wall (an engineering marvel in the day) effectively ripped the bottoms out of unwary enemy ships entering the bay. Also, forts were built at Boca Chica farther southwest along the coast where there is a narrow and thus defensible entrance to the Bay.
All these structures were put in place to end the decades of pirate sieges against Spain's most important city in the New World.
And the fortifications proved very effective when tested in earnest.
In 1741, British Admiral Sir Edward Vernon attacked Cartagena with a monstrous fleet and tens of thousands of troops. So large were Vernon's forces that the British declared victory even before Vernon set foot on Cartagena soil.
It is still debated as to whether colonization or plunder was the motive for Vernon's attack. It was probably both.
In one of the most dazzling defeats in the history of the British Navy, a mere fraction of Spanish forces defended the city and handily repelled Vernon. The fortification structures of Cartagena worked perfectly and are considered fine examples of smart military engineering.
And while Spain fortified and secured Cartagena for several centuries, the city of Cartagena ultimately came into her own and declared independence from Spain on November 11, 1811.
Thus, Cartagena locals speak of the "eleven, eleven, eleven" holiday. Some even claim that independence came that day at the eleventh second of the eleventh minute of the eleventh hour, etc. They are "eleven fixated" in an endearing way.
So, now that you have little bit of Colombia and Cartagena foundation to work with, let's get to it and see what it was like for two Cajun Gringos to visit Cartagena, Colombia, on a catamaran!
What better opening act than a look around Centro, the old Walled City.
Let's go!
CARTAGENA AND THE WALLED CITY OF "CENTRO"
The Old Walled City of Cartagena is commonly referred to as "Centro." Its ambience is strikingly similar to New Orleans' French Quarter. And that is no wonder. The French founded New Orleans in 1718, but New Orleans was ceded to Spain in 1763 and remained a colony of the Spanish Empire until 1801. Most of the architecture in the New Orleans French Quarter (Vieux Carre) dates from the period when New Orleans was under Spanish rule.
Let's take a look around Centro!
So, who was Pedro de Heredia and why is there a square named after him, you ask? Well, he is the famous Spanish conqueror who founded the City of Cartagena.
Heredia was born a Spanish noble, but he was apparently a bad-boy-rich-brat who was involved in so many brawls that he was forced to leave Spain and fled to Hispaniola (now the Dominican Republic).
Thereafter, he relocated to the Northeast Colombian coast so as to accept the position of lieutenant offered him by the governor of Santa Marta, Colombia.
Heredia became rich by exploring Colombia's Valledupar region, extracting significant amounts of gold from the region. Bad Boy Heredia "made good" by returning to Spain bearing said gold for the crown.
Years later, he received authorization from Spain to conquer new territories. He put his authority to use by taking a force of 150 men into the Bay of Cartagena where they engaged and defeated the local natives. Thereafter, on June 1, 1533, he founded the city of Cartagena.
Heredia ultimately died in a shipwreck in the year 1554.
Walking further into the center of the Old City, we find it to be much like Old New Orleans, not just in architecture but in personality. There are many street performers. Fishermen Mimes are popular. Young men paint themselves black and sit perfectly still. If you put money in their bucket, they mechanically move as if reeling in a fish and then return to their original stone-like poses.
The Old City is laid out much like New Orleans' French Quarter, or visa versa more accurately. Narrow streets wind through solid wall facades with doorways large enough for horses and carriages to enter into inner courtyards.
In the old days, these inner courtyards served to accommodate all of the trappings of affluence of the day, including the owner's horse and carriage, etc.
Now, just like New Orleans, many of these hidden gardens and inner courtyards have been converted into posh high-dollar hotels, or condominium complexes. And of course, some are still privately owned mansions.
And while Centro felt like home, there were constant reminders that we were in a foreign land. No English or French or Cajun French is spoken here. The constant chatter in Spanish ensured that we did not forget we were in Colombia and not in South Louisiana.
Also, now and then you would see something that definitely screamed "Toto, we aren't in Kansas anymore!" such as wild, exposed electrical wiring, or open manholes in the sidewalk, and other conditions that would be considered extremely dangerous back home.
It was soon after initially walking the streets of Centro that we learned about witches being a big concern in Cartagena during the Inquisition Period.
All the corners of the roof tops in Centro have long, spiked tiles pointing upward. These pointed tiles are designed to catch witches capes and protect a household from any witch trying to land on the upper balconies. I suppose it concurrently evidenced that no witches lived in the household, because they would be snagged by their own roofs during take off, etc.
And while Cartagena architecture reveals a city infatuated with threats from witches above, baby-sister-city New Orleans' architecture reveals a fear of threats from below. In New Orleans, the beautiful wrought iron columns used to support balconies also presented a late-night opportunity for a determined young man in love and willing to climb up the column for a late night rendezvous with a daughter of the house.
To deter such threats, New Orleans architecture evolved so as to include sharp metal prongs toward the tops of the columns. These menacing, upwardly pointing prongs were well-advertised as being designed to snag the scrotum of any scoundrel who would dare climb one of the columns. Also, just to complete the security measures in the French Quarter, the upper portion of the wrought iron columns were continually greased to ensure an impressive downward velocity of the victim just prior to encountering the prongs! Yikes!
Trust me. After guys saw that, all bets were off!
And while New Orleans' balconies are wrought iron with ornate metal columns that support the balconies from the ground, in Cartagena the balconies are constructed of wood and there are no support columns to ground.
But for that single difference in the style of architecture, Centro would be virtually impossible to distinguish from the New Orleans French Quarter, except perhaps the tile versus slate roofs of the Quarter.
The Old City is somewhat cosmopolitan these days. There are expensive clothing shops, perfume shops and even high grade leather shops. At the San Pedro Plaza there is a leather tienda that that sells all sorts of suitcases, handbags and even beautiful saddles. There is hardly a more intoxicating fragrance on earth than the smell of a shop filled with fine leather goods.
Of course, as you would expect, commerce is not limited to only shops. Street vendors set up shop along the sidewalks. In the squares, local artists sell their works in the same fashion that artists line the oak-shaded sidewalks of Jackson Square in New Orleans.
If you get hungry or thirsty, there is always an ice cream (helado), or soda (bebidas gaseoso), or lemonade (lemonada), or fast food (comida rapida) cart or stand nearby on the street. Also, there are restaurants everywhere.
Most restaurants feature a "comida corriente" lunch special for about three dollars. Customary fare is a bowl of soup, a wedge of lime, a banana, a serving of rice, beans and a small portion of meat, either chicken or beef.
Cartagena's Centro is characterized by the presence of not one but three different main churches and adjacent squares. New Orleans, of course, has its Catholic Cathedral and famous Jackson Square located on the Mississippi River. In Cartagena, the scene is the same, but multiplied by three! In Centro three different churches with adjacent squares serve as gathering places and stages for numerous activities.
Plaza Bolivar
First, let's look at Plaza Bolivar, where Cartagena's Cathedral is situated. The square is actually catty cornered from the cathedral. It is a wonderful area with several fountains and a thick canopy of mature palms that rise up three stories high.
Of course, a statue of a horse-mounted Simon Bolivar graces the center of Plaza Bolivar. The form of the statue signifies Cartagena to be of premier power and importance. It was back in Venezuela that we learned that the importance of any municipality could be gleaned from viewing the local statue of Simon Bolivar.
Simply a bust of Bolivar . . . you are in the sticks, pal.
Bolivar standing, sans horse . . . well, maybe there is a little money in that town.
Bolivar on his horse, with all the horse's feet on the ground . . . hey you are in a pretty important city.
But, Bolivar on his horse, with not just one but two of the horse's feet off the ground, and Bolivar tipping a plumed hat to you; Hey! mind your manners! You are in one of the most important cities in that country!
And so it is here in Cartagena, Colombia, that Simon Bolivar rides his stallion beneath the beautiful palms and tips his best hat to Melissa and me, welcoming us to his this spectacular city by the sea.
Plaza Bolivar is a great place to sit and people watch, or just enjoy the shade and experience the slow, easy tempo of Cartagena life.
Plaza Bolivar felt the most sophisticated of all the Plazas and had the best personality due to the trees and shade not found in the other two Plazas, namely Plaza Santo Domingo and Plaza San Pedro. But, all the Plazas were impressive nonetheless.
Plaza San Pedro is a great place to dine. The old Church, with its two spires, offers a dramatic setting for the San Pedro restaurant, located directly across the plaza from the church.
We enjoyed a fine meal there one evening with friends Heather and Scott Garren from Nauticat 42 sailboat Scott Free.
Plaza San Pedro
Other features of Plaza San Pedro include the Museum of Modern Art and the famous statue of Saint Peter Claver, who is the Patron Saint of the Negro Slave Missions.
Peter Claver arrived in Cartagena in 1610, was ordained in 1616, and in 1622 he pledged his priesthood to serving the Negro slaves arriving in Cartagena. Thus, he became famously known as the "Slave of the Slaves."
Padre Claver died only 32 years later in 1654. But during those three decades, the Padre never rested. He baptized hundreds of thousands of slaves, taught catechism to slaves five to eight hours per day, and was the first priest to offer dedicated spiritual guidance exclusively to slaves.
So devoted were his efforts that he was reported to even row out to slave ships to calm and comfort slaves even before they disembarked.
In 1896, two hundred and forty two years after Padre Claver's death, the Roman Catholic procedures for designating Sainthood came to conclusion and Padre Claver was officially declared a Saint.
There is much about Plaza San Pedro to provoke thought and reflection, and it has a unique gravity that invites tourists to pause, rest and reflect in this special place.
Plaza Santo Domingo
And then, finally, there is Plaza Santo Domingo, where the most famous feature is the statue of a rather robust nude woman.
The restored Santo Domingo Church is situated on Santo Domingo Square. It is there that you will find the sculpture Mujer Reclinada ("Reclining Woman"), a piece by renowned Colombian artist Fernando Botero.
Also, we quickly learned that the most aggressive street vendors and hawkers are operating at Plaza Santo Domingo. It was a gauntlet at times with pretty girls holding restaurant menus and shooing us toward eateries, all while a gang of street vendors surrounded us as well.
One particularly aggressive hat salesman wanted about 80 dollars for a not so nice traditional, Colombian wide-brimmed straw hat. He kept chasing us. The price went to 30 dollars, then 25 dollars. I bought it. I wanted one anyway.
Then, a half block away, I found the same cheap hat for sale in a hat store for 20 dollars. Not satisfied with just one hat, though, I bought a really nice Colombian straw hat too (50 dollars in the store).
Okay! So, we have taken a glance at a few of the major features of the Old City called Centro.
But let's look at one singular aspect of the Old City architecture that we found intriguing and especially delightful considering our affinity for all things historical and nautical: doors and door-knockers in the Old City.
First of all, I need to inform you about paying attention to the number of "buttons" or "studs" in a door. The more buttons/studs there are in the door, and the more ornate those buttons/studs are, the richer the resident.
Also, considering that Cartagena is located on the sea shore, many door knockers are purely nautical in design and we simply adored them. It also brought to mind that, while we love New Orleans, it is far up river from the sea and is a "river town." On the other hand Cartagena is truly a seafaring city and, being seafaring folks at present, we loved that aspect of its personality.
Doors and Knockers
Carts and Buses
Another interesting facet of Centro's personality is that various hand carts and primitive modes of transportation are still in everyday use. We thoroughly enjoyed being immersed in the activities on the streets of Centro. There were many old hand carts and donkey carts, as well as ice cream and lemonade carts that are unlike anything seen on the streets of New Orleans back home, expect maybe the Lucky Dog hot dog carts in the French Quarter.
All sorts of hand carts and burrow-drawn carts are still part of Cartagena commerce.
Standing in the beautiful setting of Plaza Bolivar, it is easy to envision a golden literary opportunity. First, there are all the accoutrements needed for an interesting stage, such as street vendors and performers, horse-drawn carriages, and both the Inquisition and Gold Museums situated right here at Plaza Bolivar.
Add in Spanish wafting through the whole scene and it is the perfect stage for a blockbuster novel wherein a Don Quixote from rural, inland Colombia rides in to conquer magnificent Cartagena only to recruit empanada street vendor Ignatius J. Riley in an epic misguided adventure seeking gold and riches while avoiding the Inquisition. Add in a little dark human nature ala Treasure of the Sierra Madre and the obligatory romance angle, perhaps conflict over one particularly irresistible chica street dancer and it could be a real winner of a tale of adventure on the streets of Centro!
Yes, Cartagena is a very rich palette of cultural colors indeed. Like New Orleans, in Old City Centro you can sense an impressive level of energy and spirit rising from the streets.
While exploring the Old City and experiencing its many auras, we also got a chance to poke our noses into very posh hotels and get a peek at "how the rich folks live."
The Santa Clara Hotel is very beautiful. Located on a small square, across from the Fine Arts University of Cartagena, Hotel Santa Clara epitomizes the upscale Cartagena experience.
Here's a quick walk-through:
Hotel Santa Clara
Across the square outside the Hotel, the Escuela Superior de Bella Artes (Superior School of Beautiful Arts) is situated. There were a few pieces on display in the square, including a characterless mannequin defined only by the commercial products erupting from his chest.
We spent many fabulous days and evenings exploring the streets of Centro, and just like New Orleans, many hidden treasures still remain.
MANGA
And while Centro was our favorite area, we enjoyed the neighborhoods adjacent to our marina. A bridge separates Manga from the Old City area, and Manga is an inland shoreside community situated on the inner part of Cartagena Bay.
Club de Pesca, the marina where we stayed, is situated at the north end of Manga. Farther down the shore is Club Nautico, the other marina available to cruisers. The main anchorage is just offshore from Club Nautico and cruisers who anchored out used the Club Nautico docks to land dinghies and access the shore.
Just outside our marina, a block inland, there is a great neighborhood restaurant where we ate dinner a couple of nights a week. One block further inland is "Mimo's" an ice cream franchise in Colombia, sort of like Baskin Robbins. We ate at Mimo's pretty much seven nights a week! The pretty young ladies working there knew us well, and like good bartenders, when they saw us coming they automatically set about preparing our favorite fare before we even reached the counter.
WATER TOUR
We finally got the dinghy out one day and rode around the bay. When we first arrived at the marina, in a thunderstorm and heavy rain, we backed into our slip stern-to. That meant the dinghy was trapped between the hulls. It's a hassle to get the dinghy out when tied up stern-to: remove the shore power cables, loose the dock lines, pull Indigo Moon off the dock until the dinghy can pass between the transom and the dock, and then pull Indigo Moon back to the dock and re-tie and hook everything back the way it was.
It usually takes a week or so in a new marina to get bored and rested enough for such an undertaking to be "fun."
But, we finally got the dinghy out and took a spin around the area. Here is a look:
We had to cut our dinghy tour short. As it turned out, we had some water in the gas tank from the four days of heavy rains upon our arrival. We limped back to The Moon and I dedicated the rest of the morning to our Yamaha outboard's fuel system.
BOCA GRANDE
It means "Big Mouth.' And refers both to the very wide entrance to Cartagena Bay, and also to the narrow peninsula of land that runs several miles from the entrance to the Bay north to the Old City.
This is the area with high-rise hotels, cosmopolitan shopping, lots of restaurants, and the beach scene. And while there is much to love about Cartagena, beaches are not one of them. The water is not very clear or pretty, and the sand is dark and unattractive. But, vacationers still make the best of it and the beaches of Boca Grande are always busy with tourists.
They would not let us in the front doors of the Hilton, so we walked a few blocks back up the street, cut over to the beach and walked into the Hilton from the beach side. Trying to keep cruisers out is like trying to eat spaghetti sauce with a brand new white shirt on . . . the cruisers and the sauce always win.
THE ROSARIOS
Less than thirty miles offshore from Cartagena to the southwest lay the Colombian National Park Islands of the Rosarios.
Just when we were about to start feeling sorry for Colombians and their lack pretty water and beaches at Cartagena, we decided to take a break from marina life and sail out to the Rosarios for a few days of SCUBA diving and pretty water.
A perfect day sail getaway from Cartagena, the Rosarios offer relief from the nasty, filthy, terrible waters of Cartagena's inner bay and the dingy unattractive beaches of Boca Grande. Yes, just a few hours away, there is a typical Caribbean Island Paradise the likes of which we have come to expect and take for granted these days.
None of the marinas in Cartagena have swimming pools. So, we were all tired of being hot and sweaty and not ever being able to go swimming after a day of sweltering street adventures. Sure we had AC, but that ain't the same as jumping into cool water.
So, between Thanksgiving and Christmas, we set sail for the Rosarios to take a break from City Life and get back to the water. Chuck and Terri on Maker's Match were ready for a break too, so we all had a great sail over and anchored our boats in very pretty water into which I immediately dove. What a treat to be back in cruising mode and swimming again!
It was within two minutes that a local paddled up with about eight lobsters for sale in the bottom of his dugout. A quick smile, some good Spanish, and a minute later I passed down a bucket and bought them all.
That evening we had Chuck and Terri over for lobster pasta (the least I could do after buying all the available lobsters!) Chuck and Terri had also purchased a cooked several crab and they made a tasty crab dip.
We enjoyed the Cocoliso Resort, made a SCUBA dive, went to an Aviary (Bird Zoo) and had a great tropical island getaway just a couple of hours away from the city of Cartagena. One could not help starting to envision the advantages of an affluent life in Cartagena with a fabulous city so close to a premium Caribbean getaway.
As much as I dearly love sitting on the banks of the Mississippi in New Orleans and watching river traffic while eating a Muffalato from Central Grocery and sipping a Barq's root beer, I'll have to say that I honestly prefer turquoise water and Caribbean lobsters, thank you.
Here is the photo log:
After a great evening of entertaining Chuck and Terri, we had a good night's sleep. The next morning, the Coast Guard was out early, speeding through the anchorage at wide open throttle and things got busy.
Turns out the little Sunfish sailboat hull in the picture (with its deck and hull almost totally separated) was a "community vessel." All sorts of vendors and panhandlers took turns using the little Sunfish to make rounds and extract whatever they could from the cruisers.
We were advised to lock everything at night and to keep the decks clear of loose items like snorkel gear. While we were there, cruisers reported that shoes, snorkel fins and masks disappeared quickly when they let their guard down.
After breakfast, the crews of both Indigo Moon and Maker's Match lit out in their dinghies looking for the Aviary, the Cocoliso Resort, and perhaps a dive shop that would fill our SCUBA tanks.
We found the Cocoliso Resort and got a tour and invitation to come spend the day at their swimming pool. Also, we found out they have a dive shop that will fill tanks for us for about 8 bucks a pop.
All of a sudden Cartagena was a million miles away! And that is the most precious currency of cruising: you can change your surroundings and move your entire home, often only short distances, and be in a completely different world that better suits your mood.
We decided to spend the rest of the morning looking for the Aviary. It took a little while, but we finally found the correct dock and walked inland to see a large complex of bird cages. The rustic cages and unkempt grounds were rather unimpressive, but the wide array of bird species on display was indeed surprising.
The little kids who lived at the Aviary followed Melissa and me everywhere as we viewed various cages and displays. But when we stood by the cage and watched the hawk in the photo above, we noticed that the kids were a good fifty feet away with hands folded and eyes wide.
Then we looked up and noticed that there was another hawk OUT OF THE CAGE and sitting just above our heads on a tree branch.
Melissa looked back and asked the kids a one-word question: "Peligroso?" (Dangerous?)
The answer: si, Si, SI!
We all started running at the same time and got out away from that area where the loose hawk was.
Once we finished the bird cages, we made our way to the front office where it is customary to purchase a souvenir. There is no admission fee (and some reason that escapes me as to why the owner can't legally charge admission), so they accept donations in the form of selling do-dads and trinkets.
And we got to see a wholly unexpected display of another kind. It turns out that they have an extensive array of molds to produce taxidermy models of saltwater fish.
We spent the rest of the day swimming, playing dominoes and chilling out. That night we had chicken enchiladas aboard Maker's Match in the glow of the Christmas lights they just put up in their main salon. We planned to dive the next morning and then go hang out at the Cocoliso pool all afternoon while we getting our SCUBA tanks re-filled.
The next morning we went diving. The reefs were not particularly interesting and the visibility not that great (we are so spoiled now), but there were a few cool barrel sponges and it was exhilarating to be breathing underwater again.
Chuck and Terri enjoyed the dive too.
When we all surfaced, however, Chuck and Terri kept quiet while Melissa and I "had it out" and argued openly. For the first time ever, Melissa and I got totally separated underwater and lost each other, an absolute Cardinal Sin in SCUBA diving and especially in a brand new location we were wholly unfamiliar with.
It happened 40 minutes into the dive while we were about 40 feet down on the outside of the reef (the reef dropped down to perhaps 100 feet below us on the outside).
With hand signals, we agreed we were getting low on air and further agreed to go ahead and cross back over the reef to use our remaining air on the shallow side of the reef near the dinghy and where there were coral heads and sand bottom in about 20 to 30 feet of water.
We both confirmed the plan and turned and started swimming. Within 30 to 45 seconds, I had crossed over. I looked back to see that Melissa was not with me. So, I went back over the reef to the outside to find her.
No Melissa.
SHIT!
My heart started beating fast.
I used my remaining air pretty quickly, going here and there and looking up at the dinghy and no Melissa could be found. Often, bubbles rising from another diver will shine in the sunlight as they near the surface and will be visible at a long distance even when the diver below can't be seen. But the visibility was not good and I could not see far enough to use the bubble trick. I looked and looked, but no trace of Miss Melissa!
I finally gave up, did a safety stop and surfaced. I got in the dinghy and waited, scanning the surface for bubbles and seeing none. Sure enough, ten minutes later Melissa showed up. She had gotten disoriented and swam off in an odd direction, but she had found Chuck and Terri and hooked up with them.
Well, I let her have it before she even got in the dinghy!
She retorted that it was all my fault, and she claimed I just disappeared: "Buddy, you swam off before I knew anything! I looked down and then up again and you were gone. I had no idea where you went! You left me and never looked back to see if I was following!"
Things cooled down a little bit, but we were both sticking to our guns. My position was that we clearly made a decision to swim over the reef and Melissa did not honor that agreement. Melissa's position was that I did not make sure she was with me and that I left in an instant and disappeared without a trace, showing no concern for her.
After we got back to the boat, I was still fuming and spoiling for a fight. It is funny how fear does that to humans; how effortlessly fear turns to anger.
In order to do something to calm down and let things settle, I went about downloading the underwater pictures while Melissa took a shower. As the thumbnail pictures of the underwater shots began to appear on the laptop's screen, I smiled wicked.
There it was. A lawyer's dream: conclusive damning evidence.
The reason that Melissa did not follow me across the reef is that she was staying in one place, taking multiple pictures of ME crossing the reef and disappearing into the murk. There it was: a perfectly sequential set of photos showing me swimming away and over the reef while she watched and even took pictures.
Well, still hot under the collar, it took me only a nanosecond to call the defendant (poor Melissa emerging from the shower and wrapped in a towel) to the witness stand again and have her recommit to her prior testimony, namely that I "simply disappeared."
Then I sprung her own underwater photos on her, and in admittedly snotty cross-examination mode, I asked: "Oh! I'm sorry! Don't you really mean to say that I "instantly disappeared" while you stared right at me and even took pictures of me slowly swimming away!
Hey, just call me a peacemaker by nature!
In retrospect, perhaps I should have "let the dust settle" a little bit and let Melissa find the pictures on her own.
But Melissa, like all tough litigants (she has to be one to have survived living with me for so long), immediately brushed-off the pictures. With the coolness of a personal injury trial lawyer being surprised with a surveillance video of his allegedly disabled client break dancing the day after the accident, Melissa stated smoothly that the photographs were wholly irrelevant.
Melissa calmly explained that in all the excitement she had perhaps forgotten that she "slightly lingered" outside the reef to take the pictures of me, looked down to take shot of a fish, and got disoriented as to what direction I took. It was her steadfast contention that I was still nonetheless at fault because I did not look back and notice she was not behind me. What if she had been snagged on the reef, etc?
We will never see eye to eye on "apportioning fault" in the Rosarios incident. And that is ok. It is not important really.
The important thing is that we discovered how sloppy, dangerous, and over-confident we had become as divers. We are much safer divers now. We learned a serious lesson without anyone getting injured beyond hurt feelings. So, we were very lucky.
In the end, we are now back to holding hands a lot while we dive. Go figure. It must be love.
After an exciting Caribbean Island Getaway in the Rosarios, it was time to head back to our slip at Club de Pesca. We were paying thirty-eight dollars a day for the slip, even while we were not there! But it was well worth it.
One of the reasons we wanted to get back to Cartagena was to participate in Club de Pesca's annual Regatta and Fishing Tournament, the biggest event of the year for this private yacht club.
So, let's get going!
Before we enjoy the Club de Pesca Regatta and other Holiday functions, this is a good time to introduce you to Cartagena's two marina choices: Club de Pesca and Club Nautico.
MARINAS IN CARTAGENA
Club de Pesca
It is a first-class private yacht club that just so happens to rent a few slips to transient yachts as well. The slip rentals help offset operating costs. Local yachtsmen own their slips and a share of the Club. Slips cost about $50,000.00 according to hearsay. I don't know the particulars really.
I can say with certainty that the docks are clean and modern and the security is serious: guards man a locked gate 24/7 and armed uniformed guards patrol the docks.
The marina's front gate is actually inside an old fort's gate that also has a guard 24/7 . . . "belt and suspenders" security, so to speak.
Club de Pesca is where many affluent Colombians from inland cites such as Bogota and Medellin keep their yachts. Many of the yachts have full-time captains who can be seen washing, repairing and maintaining the vessels daily.
While many club members do operate their own boats, it is routine that an affluent owner simply steps aboard, sits down in the cockpit, and never lifts a finger. The captain and crew manage everything.
All said, Club de Pesca is a first-class facility and as nice a yacht club as you will find anywhere. Clean restrooms and big showers with expensive fixtures, fancy tiled walls, hand soap and paper towels that are replenished and always available.
We paid a dollar a foot to stay there. Because we have a catamaran and took up two slips, we were charged double. So, we paid the same price that 76 foot sailboat would have paid!
In fact, considering there were no sailboats that big, except for the occasional mega yacht, we paid more than any other cruisers in the marina. But we did not care. It was worth every penny to be at such a first-class facility and make our stay in Cartagena a safe and memorable one.
We had lots of fun at Club de Pesca. On Wednesday evenings, the Club had a Happy Hour for us cruisers and we could invite one couple from outside the marina. The Club provided appetizers and use of the bar area.
Also, when it came time for the LSU vs. Ohio NCAA Championship Football Game, the Club allowed us to use their facilities to watch the game on television and have a football party.
Here are a few sights and sounds from marina life at Club de Pesca:
I simply cannot say enough good things about Club de Pesca. We'll revisit the marina later in this report when I talk about the Regatta.
Right now, let's take a look around the other Cartagena marina, Club Nautico.
Club Nautico
Take every adjective that I used for Club de Pesca and find its antonym. That sums up Club Nautico.
Nautico is a dirty, ratty dump. It has no security. The rest rooms are filthy, and there is never soap or hand towels to be found there. Showers are shabby exposed outdoor stalls at the foot of the docks.
The docks themselves are a decaying pile of trip hazards. The condition of the dock's electrical system is at best a "crazy woman's quilt" of patchwork.
There are no finger piers to speak of. Boats are med-moored and use their own fenders to keep off each other. When you arrive at Nautico, a skin diver takes long ropes (that you must supply) down to a cable secured at the bottom of the bay offshore from the piers and that is how you stand-off from the docks.
The water is so nasty that many people simply abandon the mooring ropes when they leave. Dead, bloated animals, garbage, and the run off from the streets of a major, dirty city all float by.
Ragged gangplanks are supplied for boarding vessels at Nautico.
Prostitutes, ahem, I mean escorts come and go from the yachts of old, single, bachelor cruisers who have decided to live in Cartagena and enjoy the "amenities." There are reports of a few cruisers' long-term marriages ending in Cartagena, with husbands leaving wives for the irresistible beauty and lure of spellbinding young chica chicas, all of whom are too eager to meet a "man with money."
In fact, the following passage in the Club Nautico handbook is illuminating:
_______
A health and legal note concerning prostitution.

Aids continues to be a risk. Club Nautico has a policy against the use of our premises for soliciting and may prohibit the entry of certain persons plainly engaged in prostitution, particularly those dressed accordingly. Club Nautico is strongly against (as is the law) the involvement of minors (less than 18 years old) in prostitution and in certain cases we may ask for identification."
______
So, the message is . . . make sure your hookers dress nicely and have a fake I.D. if they are under 18, or else they will not be welcome in the marina.
Hey, at least Club Nautico is "strongly against" child prostitution (rolling my eyes). Good Lord! One would think the verbiage would be more like "those suspected of being involved in prostitution with minors will be reported to the police, arrested, and prosecuted to the fullest extent of the law."
And while all of that is pretty depressing, things are not all bad at Club Nautico. Some things are great. In all fairness and in the spirit of even-handed reporting, despite the pitifully low-class dock facilities, Club Nautico undisputedly loves cruisers and caters to them like no other marina we have encountered anywhere else.
It is truly a cruisers' hangout and by accommodating cruisers and catering to all their needs, Nautico's fabulous attitude goes a long way toward overcoming its poor aesthetics and infrastructure.
The manager (John) is as nice as guy as you'll ever meet; knowledgeable; accommodating; English and thus speaks perfect English; and, he always has time to stop and answer questions. John will do anything to help you, even if you are not staying at Club Nautico.
From what I can discern, it is not management's fault that the owner of Nautico will not spend a cent on improvements to the shabby marina.
Another truly superb thing about Club Nautico is a free handbook of all the service providers in Cartagena, and it covers doctors to welding services and everything in between. It is an extensive publication compiled from local knowledge and cruisers' feedback for years. It took a lot of effort to compile this invaluable publication.
Also, in addition to being THE source of information for cruisers, Club Nautico puts on all the big Holiday parties for all the cruisers in Cartagena. Also, they have swap meets and flea markets and all the other social events that cruisers have come to expect.
And Nautico does not limit its services to marina guests only.
At one time during our stay there were 80 yachts anchored out in the bay. For a very small fee, Nautico allows those anchored out to come in and take on water, use the showers, and use the internet, etc. So, for cruisers out on the hook, Club Nautico is their best and only friend.
On the other hand, if you tried to come into Club de Pesca by dinghy, a shotgun barrel would direct you back out to sea and suggest that a visit to the front gate on the street is more in order.
But, at Nautico the world is welcomed with open arms and they are to be commended for that.
Halloween, Thanksgiving (not even a Colombian holiday), Christmas and New Year's parties were a big deal at Nautico. They sold tickets to fund the efforts and the staff there did a spectacular job for the cruisers.
Those of us from Club de Pesca simply walked the half mile down to Nautico and enjoyed the festivities with the bulk of the cruising community. Of course, this led to constant good-natured harassment by a few in the Nautico cruising crowd about how "high class" and "snooty" cruisers like us from Club de Pesca had a lot of nerve coming down to go "slumming" with them at Nautico.
Anyway, let's take a look at Club Nautico:
In the end, we had the perfect setup. We enjoyed participating in all the cruisers' events at Club Nautico, but when the party was over, we went home, took a hot shower and enjoyed our nice, secure neighborhood.
So, you can have your cake and eat it too if you are willing to pay for it.
Now, let's shift our attention back to Club de Pesca for one moment more.
Security was non-existent at Nautico, but at Club de Pesca the gatekeepers were very strict as were the guards with shotguns.
So, how ironic is this? Indigo Moon was boarded twice by uninvited strangers in Club de Pesca, once by a Club Member's wife, and once by the guest of a Club Member.
The first incident happened about 3:00 p.m. one Saturday afternoon. Melissa and I were "taking the day off" and in our PJ's and down in our cabin in the air conditioning watching a movie, half-napping, and escaping the oppressive afternoon heat.
All of a sudden, someone jumped on deck, shuddering our bunk.
I got up and ran up to the salon, peeking out of our room-darkening salon curtains. There was a middle-aged blond lady with a beer bottle in her hand excitedly running around our cockpit while her entourage of five other people stood on the dock and watched.
I was still a little sleepy and in shock, but when she stepped down to the salon door and jiggled it, trying to get the locked door open, I had enough. She could not see me. I threw open the drapes and opened the door and she was surprised but wholly unapologetic.
She asked if she could come in and look around. I said "no, please my wife is sleeping; this is a private yacht." She then asked if she and all her friends could come aboard and inspect the decks of Indigo Moon.
Again: "NO, please, please, this is a private yacht and we are sleeping." She unapologetically departed, rather miffed that we were not open for "boat show" traffic.
Then, on a different occasion, we heard a sizable sport fishing yacht come into a slip near us at about midnight one Saturday evening. They were drunk, loud, and had music blaring in the cockpit that woke up anyone sleeping in the marina.
The music and drunken chatter blared for a good twenty minutes and then, all of a sudden, there was a BIG shudder and thumping foot steps in the cockpit of Indigo Moon above our heads.
I jumped up, threw the salon door open and there sat a fat, drunk, Colombian at the helm, turning the steering wheel like a kid on a coin-operated kiddy ride outside the supermarket.
I blared out "Que Pasa!!!??" I shooed him off the boat and, in a plume of alcohol fumes, he waddled back to the sport fishing boat only fifty feet away and on the other side of the dock.
A few other guys were standing on the dock and they spoke in hushed tones. One sheepishly waved, all while the perpetrator kept his back to me. My Spanish was not good enough to "let them have it" so I used the "international body language" for what the hell is wrong with you people by raising my arms and jerking them outward a few times.
Ironically, none of my friends who stayed at Club Nautico reported anyone's boat getting boarded by uninvited sightseers, despite the fact that the great unwashed public walked the docks and looked at yachts all day every day.
So go figure. With all its serious security measures we were boarded twice in Club de Pesca by members/guests. It falls under the old saying "we have met the enemy and he is us!"
After the second boarding incident, I made it my business to learn several Spanish phrases that would get my sentiments across precisely to the next intruder(s). Also, I went about trying to get a sign made; you know . . . something catchy. Maybe this: "Hey! Moron! Yes YOU! Stay off of my boat unless you are invited, or else I'll shoot you in the throat with a spear gun!"
Yes. . . I get rather cranky when I'm awakened from a sound sleep.
Although ticked off on the inside, I was cool on the outside and went to the marina office to ask if there was some different attitude in Colombia, or unusual yachting customs that provided for boarding AND entering private yachts "just to look around." I also brought up my need for a sign ("private yacht – no boarding") and asked how to best translate that into effective, polite Spanish.
But, marina management assured me the sign was not necessary and that they have never had a problem. Moreover, they assured me that Colombians are not rude or stupid or unsophisticated yachtsmen. On the contrary, just like everywhere else in the world, in Colombia it is taboo to board a yacht without permission.
So, we had two freak occurrences in as many months.
Both of the club members involved were informed that their crew/guest had committed an unauthorized boarding and admonished to prevent any such infractions in the future by being responsible for and keeping an eye on their guests while in the marina.
Disappointingly, neither of those club members had either the guts or the common courtesy to come by and apologize to us. In fact, a few weeks later, the owner of the sport fishing boat was there with his family for a Holiday weekend, but he ignored us. So, not everybody at Club de Pesca is first-class. It is true that wherever you go, there will always be a few folks who are not so nice.
Hey, it's Indigo Moon's fault anyway for being so beautiful and irresistible!
One final note about the two marinas a follows:
1) Club de Pesca has a very limited number of available slips and if you want to stay there (which I highly recommend if your budget allows it), you should make your reservations months in advance and be prepared to pay for the slip on a certain starting date whether you make it there by that date or not; and
2) Club Nautico also fills up quickly and if you want to stay there you should make reservations there long in advance as well.
There are simply not enough slips to go around in Cartagena, and as more and more cruisers discover this utterly fabulous destination, it will only get more and more crowded and harder to rent a slip in either marina.
If you have a few million dollars to spare, a sure bet would be to build a first-class 300 slip marina (with breakwater) in Cartagena Bay. Add a swimming pool and onsite fully stocked marine chandlery and it would be an extremely profitable business venture in the long haul.
Hey, the cruisers are coming! The cruisers are coming! And Colombia is sure to be a wildly popular destination in the foreseeable future.
Anyway, now that we have the marinas somewhat sorted out, let's take some tours of the City and learn a little history too!
TOURS OF CARTAGENA WITH DURAN DURAN
There are many tour guides in Cartagena to choose from. I finally decided to set up an all day trip with a gentleman named Duran Duran.
He's a great guy and we had a lot of fun. The first time I met him, he came by Club de Pesca to explain his services. The weather was not going to be very good for a few days, and I had to see about getting a group of four cruising couples together (like herding cats), so I told him I would get back to him.
In the meantime it was lunchtime and I asked of he had plans . . . that I would be happy to buy him lunch. He was free, so Duran Duran, Chuck and Terri Hill from Maker's Match and Melissa and I took cabs to the Old City (ten minutes away) and we ate a "comida corriente" lunch and visited with Duran, asking him about politics and customs and cocaine and Colombia in general.
We had a nice lunch and then Duran said he was not doing anything anyway and that he would be happy to show us the Naval Museum at no charge. So, off we went. Of course, at the end of the day I paid Duran anyway!
And about a week later, he took a group of eight of us around the City for quite a day of history and touring.
Here are some shots from those two "Duran Duran Days":
Naval Museum
We enjoyed the Naval Museum. It had scores of scale models demonstrating the methods and equipment used to build the underwater wall across the bay at Boca Grande, and many models of other equipment used to service square rigged ships.
Also, models were nicely done depicting the development of the fort systems around the Bay, and relevant data about famous battles. It was a fun and interesting afternoon.
About two weeks later, I finally managed to organize a full day tour with four other couples. We saw many sights:
La Popa
Ft. San Felipe de Barajas
After touring La Popa, we made our way toward Ft. San Felipe de Barajas, but stopped first to see the Old Shoes, a sculpture, by artist Tito Lambrano that is based on the poem entitled "My Old Shoes" by Colombian-born Luis Carlos.
In the truth is stranger than fiction category: a replica of the Old Shoes sculpture was presented to the City of Coral Gables, Florida, in the mid 1980's and is prominently displayed near the entrance of one of Coral Gables' wealthiest residential areas.
As it turns out, Coral Gables is a Sister City to Cartagena. Who knew?!
After the Old Shoes, it was on to nearby Ft. San Felipe de Barajas, the huge multiple-level fortress that was successfully used to repel thousands of troops led by Sir Edward Vernon in 1741.
As we approached the Fort, I managed to win the smiles of young children on a field trip. The more I photograph smiling young people in different countries, the more I come to appreciate that kids are so universally friendly and happy.
The Fort is an engineering marvel. Again, it took over 200 years to complete all the fortifications of Cartagena. And while not diminishing the expertise of the Spanish Military, they had also had defensive help not found on blueprints or via superior artillery.
Instead, tropical diseases, mostly dysentery, played a major role in Sir Edward Vernon's defeat. The men remaining on ships, by the thousands, were so ill that they reportedly threatened mutiny and demanded a retreat be undertaken with or without Vernon's order.
I asked Duran Duran what was the most important defense of Cartagena, military might or natural disease and he could not venture a guess as to whether either defense could have succeeded alone.
After touring the fort, we all went to lunch and then headed to the Gold Museum where we saw many artifacts.
Gold Museum
Museum of the Inquisition
After inspecting the interesting displays at the Gold Museum, it was on to the Museum of the Inquisition, where torture and death awaited those accused of being witches during the period.
The witches' mailbox was used to lodge anonymous complaints. Upon the mere weight of an anonymous complaint slipped through the little window, and solely by the Holy Court's own motion thereafter, a defendant was brought to answer the charges of any religious practices considered to be apart from the Catholic procedure.
If the defendant was tortured long enough, it was possible to get him/her to admit just about anything, including being a witch (warranting execution). Or, perhaps the defendant was simply killed in the torture process – a small price to pay to insure a devout Catholic congregation and full collection plates, right?
Religion in general has accomplished some amazingly wonderful things over the course of history, but the period of the Inquisition was an especially "dark hour" for the Spanish Catholic Church.
Obviously, no matter what your creed, it was imperative to make sure your name did not wind up in the witches' mailbox in the first place!

We enjoyed the tour, but it was a long day in the Cartagena heat. I very much enjoyed meeting Duran Duran and we wish him well. He's a good guy. Many cruise ships are stopping at Cartagena these days and we wish Duran future success with his tour company.
GLORIA: PRIDE OF COLOMBIA
On yet another day, we joined fellow cruisers to tour the tall ship Gloria. She sat right across the Bay from us where we were docked at Club de Pesca. It was only a five minute taxi ride from our catamaran to the famous Colombian naval ship.
The history of the Gloria dates back to January 1966 when a governmental decree approved the construction of a bark type square-rigged sailing vessel to serve as a School Ship for the Colombian Navy.
Legend has it that in the mid 1960's Vice Admiral Orlando Lemaitre Torres was the driving advocate promoting the concept of a school ship such as the Gloria. Whenever there was an official opportunity, or even a social event that allowed for in-roads to be made, Admiral Lemaitre promoted the idea of Gloria.
Finally, at a party and in a moment of business mixed with social whimsy, Colombian Defense Minister Gabriel Rebaiz Pizarro pulled out a pen and wrote this upon a cocktail napkin: "worth one sailboat" and then signed it! He handed the napkin to Vice Admiral Lemaitre and that napkin served as the written contract that resulted in the construction of the Gloria!
Construction of the vessel began in 1967 and the Gloria was christened on September 7, 1968.
Since that time, the 67 meter-long 1,300 ton vessel has logged approximately 700,000 nautical miles including two circumnavigations.
When entering a port, the crew takes to the rigging in dress whites to fill the yardarms, and while standing in the rigging the crew sings the Colombian National Anthem. It is fabulous. Just plain fabulous. I must say that the Naval pride of Colombia is world-class impressive.
And the people of Colombia are very proud of the Gloria, as they should be. The Naval Midshipmen and Officers of the Gloria are "rock star" popular and, during our visit aboard, we saw pretty young Colombian women stand in line to get autographs and photos with the dashing young officers of the Gloria.
The term National Treasure comes to mind when speaking of the Gloria.
Here is a look:
And while I was poking around and looking here and there on the Gloria, I noticed a group of teenagers gathering all the way at the bow, filling the forecastle area. They were all looking forward and I was behind them perhaps twenty feet.
I started taking a few pictures and, one by one, they began to turn around, eventually elbowing each other to turn around and pose.
In short order, I was shouting "Hola Amigos!' and flashing "peace signs" at them with both hands up in the air, like Richard Nixon. And I was taking pictures in between all that.
Every time I took a picture, they would howl in delight and run to me to look at the little digital screen and see themselves. Then, they'd run back to pose again. We did it about ten times. I was just learning enough Spanish at the time to understand that they were from a rural area outside Cartagena and that they came to the City to see the sights during the Holidays, including the Gloria. Country kids on a big trip to the city.
All I did was spout out a few words like "Chevere" which means "Cool" in Spanish as in "The Fonz in Happy Days" type cool. Oh they loved that. They had the best time laughing and giggling with me.
Here they are:
I consider my visit to the Gloria a privilege. At age six, I stood upon the decks of Admiral Lord Nelson's famous British Warship the Victory – the pride of the British fleet. I was in awe of Victory even as a child. It is not an exaggeration to note that not since the Victory has a ship impressed me the way Gloria did.
Although the Gloria is obviously not an accomplished warship, and despite the fact that British Naval history is beyond compare, it is nonetheless the same level of pride for their Navy that shines through in Colombia, and that pride is captured by the Gloria.
HOME FOR THE HOLIDAYS IN CARTAGENA
We spent the Holiday Season in Cartagena, and what a fabulous place to be that time of year! We enjoyed Halloween, Independence Day, Thanksgiving, Club de Pesca's Annual Regatta, Christmas and New Years. What a blast!
I titled this section "home" for the Holidays, because that is how we felt at Club de Pesca. Most affluent yacht clubs are . . . well . . . full of affluent people. Most wealthy people are less than zealous about including outsiders in private club activities.
One of the first legal theories we discussed in our first year classes at LSU Law School is that one of the most valuable and attractive legal rights of ownership is the right to exclude others from using the property.
Most posh yacht clubs are pretty keen on that point. There is nothing to apologize about. Let's face it. Whether or not you earned your big money, or were born into it, if you pay a big wad of cash to join an exclusive, private yacht club you expect exclusivity.
And why on earth would you thereafter condone renting a slip to a Cajun Cruising Catamaran, much less consider inviting those crazy Cajun gypsies to your most prestigious annual event?
Well, all I can figure is that it is because the Colombians are simply that generous and good-hearted. It seems they enjoy a culture that is more centered upon family, fun and enjoying life rather than keeping score.
Melissa and I were invited, along with several other cruisers staying at Club de Pesca, to crew in the three day regatta aboard the local sailboat Garabato. During the three days of racing, there were never any cross words, no shouting on the radio, and no tension at all. It was 100% easy going fun.
When we would pass close to other boats in tacking battles, crews laughed and exchanged witty barbs exactly in the same fashion that South Louisiana Cajuns would.
Do not confuse my observations as indications that the Colombians lack seamanship skills.
On the contrary, there were sailing experts in the fleet, but there was no arrogance and not one scintilla of all the snotty behavior that some prestigious yacht clubs and their members exhibit back in the U.S.A. -- where everything for them is an "end of the world if we don't win" ego trip.
One need only harken back to my trip report on our arrival in Buzzards Bay in Massachusetts in 2005. We had just sailed for several days offshore, from Norfolk, Virginia, to Massachusetts. I was talking on VHF Channel 72 (a public channel we were properly using) to my friends on another catamaran who made the trip with us, discussing our approach to the harbor.
Well, there was a huge regatta underway and the yacht club there in New Bedford was using VHF 72 for the race committee's channel. Man-O-man! Some snotty old bastard "reamed me a new one" for talking on the channel, and then a few more of the yacht club's "uppity thugs" chimed in and berated me. They all oozed the essence of affluent arrogance the likes of which must have been honed over the span of several generations.
In contrast, during the regatta in Cartagena I'm pretty sure we forgot to turn on the VHF radio. If it was on, nobody cared anyway. The owner/captain of our boat had a cell phone. If someone needed us they could have called, I guess.
Instead of race tension, we enjoyed the picnic baskets prepared everyday for each boat, had lots of laughs and talked of life, culture and history.
We sailed the boat hard, as did all the participants, but it was clear that the focus was one hundred percent on easy-going fun, family, fellowship and including all of us cruisers in the good times too.
The owners of the boat we crewed on, Garabato, are Lee and Pachi Miles. They even had us (and several other cruisers) over for a wonderful lunch at their new condominium that overlooks Cartagena's inner bay.
Lee Miles owns and operates an emerald store named Mister Emerald that specializes in custom emerald jewelry and loose emerald stones too. Guess what Melissa got for Christmas? More on that later.
The point is, our experiences at Club de Pesca made our Holiday Season unforgettable. It is not until you experience such striking contrasts in culture and human behavior first-hand that you can understand just how precious and special some people and destinations are.
That said, Cartagena is an absolute jewel and the Colombian people are just as, if not more friendly and happy than South Louisiana Cajuns. And that, my friends, is truly the highest compliment I can offer.
So, without further ado, let's take a chronological look at our Holiday experiences in Cartagena!
Halloween
All of the holiday parties for cruisers took place at Club Nautico. We, along with other cruisers from Club de Pesca, would walk down to Nautico and enjoy meeting all our friends. Once we got to Cartagena, all our friends were spread out: a couple at Club de Pesca, several at Club Nautico, and many anchored out in the Bay.
Club Nautico was "cruiser central" and it served as the place where we could all get together and meet no matter where our boats were.
The first party we attended at Nautico was a Halloween costume contest party. There was music and dancing and even a fistfight on the dance floor near midnight – somebody groped somebody else's girl or some other such incident!
Anyway, Melissa and I went as New Orleans Mardi Gras revelers. I used Marks-A-Lots to make T-shirts. We already had hats and beads (all Good Cajuns keep beads). And, of course, I put in my fake rotten teeth (one of which is gold and has a diamond – truly hideous).
It was a great way to kick off the Holiday Season!
ELEVEN, ELEVEN, ELEVEN!
Cartagena celebrates its Independence Day on November 11 to coincide with the City's formal declaration separating itself from Spain on November 11, 1811. The annual Colombian beauty pageant, parades, fashion shows, concerts and non-stop parties last a week. It is quite a celebration.
The Eleven Eleven celebration is not as openly drunken and rowdy as Mardi Gras, but it is a great City-wide celebration that brings in thousands and thousands of visitors from outlying areas to the City.
Thanksgiving
Colombians obviously "don't have a dog in this race" you might say. Thanksgiving is a U.S.A. affair. Nonetheless, the staff at Nautico Marina put on a fabulous Thanksgiving party for the cruisers. Tickets were sold to fund live music, dance exhibitions, and a food buffet offering a traditional Thanksgiving turkey dinner!
It was awesome and the folks at Nautico are to be commended for going to so much trouble for the cruisers Also, please do not confuse my earlier references about the terribly dilapidated condition of Club Nautico to indicate they are not nice folks. On the contrary, they were fabulous friends to the cruisers.
XXVI Torneo de Pesca
Between Thanksgiving and Christmas, we enjoyed all of the festivities at Club de Pesca during its 24th Annual Regatta and Fishing Tournament.
It was a scene out of a dream. First of all, a very wealthy gentleman from Medellin donated ice cream to the festivities. It just so happens that he owns the brand name Crème Helado, the most recognized and delicious ice cream products in Colombia as far as we could see.
So here's the deal: Crème Helado set up a complete ice cream shop on the docks of the marina, just like you had walked into an upscale ice cream store. It's all free! Just walk up and order anything. . . as many times as you want to!
And just to make sure that ice cream was instantly available at every moment of the day during the festivities, there were at least a dozen Crème Helado handcarts loaded with ice cream bars being pushed around on the marina's docks. I hardly ever passed one without snagging yet another treat.
After every day's competition, there was a sit-down dinner, and the biggest event of all was live music and a fashion show. Yes, a raised runway was set up in the middle of the marina's huge bar area, along with a stage for a rock band.
Colombian beauties made several passes with various styles of clothes, but the Grand Finale was a bikini show with all the girls on stage, all while the rock band played Carlos Santana tunes and even Deep Purple's Smoke on the Water. . . we got a big kick out of that.
The event was sponsored by many other food and beverage corporations such as rum and coffee manufacturers. The coffee, Sello Rojo (Red Seal) is the best coffee I have ever tasted. Louisiana favorites like New Orleans' CDM and Baton Rouge's Community Coffee have much the same richness, but I think Colombia must keep a secret stash of the really good stuff.
When we departed Colombia, I had dozens and dozens of bags of Sello Rojo stashed all over the boat.
But I digress. . . back to the party at Club de Pesca!
Another night, there was a cooking contest. Fellow cruisers Dave and Judy on Fia, and Cosmos and Donna on Koukla entered the contest, as did several local club members. Koukla WON the entire competition, beating out local club members. How cool is that?
Here is a "day in the life" photo journal of Club de Pesca action:
All of the races started out in the inner bay, with the fleet heading back toward a buoy at the yacht club. That way, the members on shore could see tacking battles coming right at them and then again as the fleet rounded the first mark and headed back out into the bay and beyond.
We had a pretty poor start on day one, but the second day we were the second boat across the line and enjoyed close-quarters tacking battles in the bay.
Garabato, our boat, is a heavy, full-keel 42 foot Passport built to withstand rough offshore seas and high winds. Thus, all the lighter boats left us behind in the calmness of the bay. But when we got offshore, headed upwind in big seas, we caught up with and overtook a few boats, but by the end of the day, they passed us again in the calm bay.
But hey, did I mention how good the shrimp salad was?
And Lee was funny. On the first day, we sailed hard, but found ourselves far at the back of the pack the whole day. Lee noticed his crew was a little "down" and said: "Hey guys! Cheer up! We are doing great! Last year we couldn't even see any other boats in front of us and I can see at least three right now!"
By the end of each day, we were a "good" kind of tired and ready to tie up, grab some ice cream, head past the weigh station to see the fish caught, and get back to Indigo Moon for a shower and to get ready for the evening's events.
During three days of sailing, there is a lot of time for conversation (note I said "sailing" and not "racing"). We were free to spend much of the time relaxing and discussing many things, including getting to know Lee and Pachi Miles.
Lee is an American, now living with his wonderful wife, Pachi, in Manga.
Pachi is a member of the famous Roman family that pretty much owned the Manga area for several generations. Pachi is on the Board of Directors of Club de Pesca and her father is one of, if not the founder of the Club.
Just down the shore, almost directly across the street from Club Nautico, is where Pachi's childhood home stood. Now, there are two first-class condominium high rises on that same property and Lee and Pachi live on one of the upper floors.
Lee owns and operates his emerald store. His wife, Pachi, designs many of the custom pieces. Lee explained that there was a period where he had extreme difficulty keeping his shop open, but now that tourists and cruise ships are returning to Colombia, his business has recovered.
Of course, with Christmas coming up, during the Regatta I asked Lee when it would be a good time to come see his store. He said: "Come Tuesday at about 2:00."
Well, we showed up but the door to the store was locked and it looked closed. We saw someone inside and knocked to see if we could find out what the deal was. It turned out he was closed, but opened just for us when we arrived.
I bought Melissa a gold chain, gold pendant with emeralds that Pachi Miles designed, and emerald and gold earrings for Christmas. What better gift to commemorate our wonderful times in Cartagena!
Speaking of emeralds, who of you remembers the blockbuster hit movie Romancing the Stone with Kathleen Turner, Michael Douglas and Danny DeVito? It was all about chasing down a huge heart-shaped emerald in Colombia. The emerald in the movie was buried under a waterfall found only by a treasure map, and Michael Douglas fought the bad guys and a crocodile to get the stone, etc.
And it was yet one more movie that ended with the cruising dream being fulfilled when Michael and Kathleen sailed away on a new sailboat bought with proceeds from the giant emerald.
Well, guess what? The movie was not filmed in Cartagena or Colombia.
It was filmed in Mexico! In fact, Colombians scoffed in disgust when it was immediately discernable to them that it was Mexicans on the buses and the towns seen in the film were Mexican.
Also, there was the little problem of the ms-pronunciation of Cartagena. Michael Douglas kept saying "Car-ta-hay-nyia" in the movie when in fact it is Car-ta-hay-na and the "n" is pronounced just as it would be in English.
Coincidently, while we were in Cartagena, the major motion picture Love in the Time of Cholera was playing at the local movie theater. It was fun to watch as many scenes were filmed in Cartagena. The movie was based on the novel of the same name by famous and beloved Colombian author, Gabriel García Márquez, who was awarded the Nobel Prize for literature in 1982. Pachi Miles told us that while growing up her family was close friends with Gabriel Marquez' family who were actually visiting Pachi's house when they found out he had won the Nobel Prize.
Anyway, we enjoyed going to Lee's "Mister Emerald" store and also enjoyed attending the luncheon at his new condominium.
Before we knew it, the Club de Pesca Torneo XXVI was over. When the ice cream carts were being hauled out the front gate, a tear ran down my cheek (literally).
Melissa and I will never forget the courtesies extended to us by Club de Pesca and Lee and Pachi Miles.
And so, what do you do for an encore after the Club de Pesca event? Well, get ready! Christmas is less than two weeks away!
Christmas in Cartagena
It was not long after the Torneo de Pesca that all the Christmas decorations began to appear. In an inset in the bay, directly in front of the Gloria and adjacent to Centro's Clock Tower Gate, an impressive array of steel cables were stretched across a fifty yard span water to support lights that emulated waves of the deep blue sea.
And, of course, Jesus Mary and Joseph were depicted as arriving by boat, as were the Three Wise Men in another boat of their own.
This display underscored the fact that almost all things have arrived here by way of the sea, so why not have the Lord arrive by boat as well?
The Gloria's rigging was also illuminated. And although not nearly as grand as the Gloria, lights were strung in Indigo Moon's rigging as well, with our bright mast head anchor light serving as a star, all of which helped brighten Club de Pesca.
The Old City had many lights and decorations and the streets were busy with tourists and vacationers and bustling with street vendors, performers and the like. The period from November 11 until New Year's Day is Cartagena's vacation and party season and it was the perfect time to be there.
We were also surprised to find that weddings are very popular on Christmas Eve.
The cruisers staying in Club de Pesca had a little party for the Marina Staff to show appreciation for their friendship. Most all of the employees were extremely nice and friendly.
Unbeknownst to us, however, the "corporate cruiser" crowd and "cruising power brokers" in the marina had gotten together in some closed meeting and passed a resolution that each cruising boat in the marina would donate a certain amount of money to be placed in one kitty to be split amongst the "Blue Shirts." The dock hands wear a uniform comprised of button down blue dungaree shirts with the Club de Pesca logo on the front pocket.
Nothing was to be given to the ladies working in the office.
Ugh!
This is a repeat of Puerto La Cruz, Venezuela! Anytime cruisers pile into a port and stay a while, there will be a certain group who are not happy unless they form quasi-committees and then wrestle for control of said committees.
I don't know the technical name for the pathology they are beset with, but something about their ego makes it is very important to them to feel like they are in some inner circle of power. They expend much effort and industry trying to gain power and manage other cruisers around them.
They are not bad people and they mean well, but it gets irksome when a cruising bureaucrat starts attempting to manage my cruising life, especially when they don't invite me to be a part of the Board of Directors making the policy decisions.
When the Club de Pesca "Cruisers' Christmas Gift Policy" for the marina was announced by "Cruiser Management," Melissa and I declined.
Instead, as is tradition for us, Melissa baked homemade cookies: peanut butter, chocolate chip, and oatmeal raisin. And Melissa's cookies are, if I may say so myself, the best in the world.
We went to the supermarket and bought bags of various hard candies too, along with red Christmas bells and ribbon. Then, I made a baggie with a nametag for each and every employee at Club de Pesca, not just the Blue Shirts. In each present, we included cookies, candy and a ribbon tied to a red Christmas Bell and an Indigo Moon business card.
This seemed much more in keeping with the spirit of Christmas, at least more so than handing out plain white envelopes containing ten dollars.
A few cruisers did nothing and saw no reason to give money or do anything else. And that is ok too. Their argument was that anytime a Blue Shirt helped, they were tipped with money on the spot. That was my situation as well. Anybody who did anything for me was paid and paid well with a very generous cash tip right on the spot. And the Staff fought over who would get to help me with any given task . . . all as it should be.
Anyway, Melissa and I showed up at the Christmas party for the employees (unbeknownst to "Cruiser Management") and we distributed our bags of cookies and candy at the same time that Cruiser Management distributed plain envelops of money.
Everybody "played nice" but Melissa and I could feel tension from a few of the other cruisers in the corporate cruiser crowd.
The local members of Club de Pesca also rewarded the employees. There was a big stack of wrapped gifts to be handed out. But, the presents were not for the employees. Instead, the gifts were for each one of the employees' children.
I thought that was cool. So, as names were called, each employee would come forth and get their children's' gifts, their bonus check from the marina, a bag of cookies and treats from the Indigo Moon, and an envelope of money from participating cruisers (but only if they were a "Blue Shirt).
Also, Linda, from the yacht Que Linda, read a fabulous declaration of thanks to the employees, and she did it in Spanish. There was not a dry eye in the house and Linda did a great job with that!
The cookies were a hit, of course. Some employees took them home to their children. Some ate them on the spot. All of them wanted more and Melissa became very popular. I think one of those Blue Shirts fell in love with Melissa because of her cookies. Melissa's cookies should be sent along with world peace treaty proposals and such. Really good cookies can accomplish amazing things.
We were very happy because in the end our choice of gifts to the employees effectively bridged all language and cultural gaps between us and the employees. The cookies accurately conveyed our true sentiments: respect and appreciation and a demonstration that were happy to work for them too. It was clear that Melissa and I went to a lot of trouble to make the gifts and the employees truly appreciated it. You can't beat that.
So, what happened next?
Well, just when the tension ended regarding the employees' Christmas Party, then came the Club de Pesca cruiser rebellion about which Christmas party to attend.
Our long-term cruising friends on catamarans Maker's Match and Reality, and many other friends were anchored out and coming and going from Club Nautico, so Melissa and I spent a great deal of time over there anyway and were happy to do so. Many new friends were there as well.
A few Club de Pesca cruisers, however, announced that they planned to have their own "exclusive" Christmas dinner just for select cruisers at Club de Pesca.
It seemed Melissa and I were just plain contrarians when we informed them that we were going to Club Nautico's event so as to have dinner with our long-term cruising friends and the bulk of the cruising community (a big crowd of over a hundred people would be there, many of whom we know).
Honestly, even if my best friends had not been at Nautico, I'd have gone there anyway. I have a strict rule to never associate myself with any effort labeled "exclusive." I have learned over my lifetime that I am not compatible at all with exclusive-minded people.
True irony: the Colombian members and owners of Club de Pesca were inclusive by nature and very generous when they allowed cruisers into their club facilities in the first place. The Colombians did not act superior about it either. And so what did the cruisers do with that fabulous Colombian generosity and goodwill? Well, disappointingly, the cruisers accepted the gift of inclusivity from Club de Pesca and then immediately cordoned off a little corner of exclusivity within the Club. Go figure.
I convey all of this to once again illuminate in our trip reports that cruising has moments when adjectives such as "peace" and "isolation" are simply inapplicable.
If you want to get away from social pressure, don't go cruising . . . move into the high mountains of Montana and build your own log cabin, or something else like that. Out here cruising in the Caribbean is very much a taxing social scene at times.
Most of these social pressure situations arise mainly in marinas where "live aboard" people are cohabitating in what amounts to a floating apartment or condominium complex of boats that never move, or in hurricane holes and major ports where cruisers stay a few weeks or months in one spot.
There is relief.
When you are out of the marinas and "on the go" cruising, you can simply monitor the movement of the "corporate cruisers fleet" and stay at least one anchorage away, or take a different route. While on the move it is much easier to stay out of the fray and enjoy some peace and quiet and autonomy from the society crowd.
Someone is asking right now: "how do you monitor the movement of 'corporate cruisers'?" Well, it's easy. Just turn on the VHF and they WILL be there chattering constantly and having Board of Directors' meetings about everything from what precise time they will all go snorkeling to what kind of noodles to put in the salad or to debate and confirm the dozen waypoints they will enter into their GPS systems to move only five miles to another anchorage. I am not exaggerating. It is a study in micro-management and socio-tribal behavior.
Ok, enough about all that! Let's get back into the Christmas Spirit and take a look around Cartagena. Colombia during the holidays!
Here are some photos:
Before we knew it, New Year's Eve rolled around and we walked the streets of Centro with Chuck and Terri Hill from Maker's Match and Grant and Candace Grove from Reality. We even took a horse and carriage ride through Centro.
All throughout the Old City, the Plazas were barricaded and reserved for private parties with live music. Plaza Santo Domingo was crowded with Colombians in fine evening wear and they enjoyed dinner on white table cloths and satin-covered chairs as the band played. Mucho cantando, bailando, tominando cervesa, and muchas divertidas! (Much singing, dancing, beer drinking and much fun).
Plaza San Pedro had a similar private party going on as well when we walked by, and some streets were closed to traffic and full of dinner tables filled with festive Colombians waiting to ring in the New Year.
After a thorough tour of Centro on New Year's Eve, we returned to the boat about 10:00 and enjoyed relaxing and watching fireworks from the decks of Indigo Moon
New Years Eve
We had a blast in Cartagena and we were there during their most festive time of year. They even have a bullfighting ring and the bullfighting season kicked in after New Year's Day.
I did not care that much about the bullfights, having already seen the "real deal" in Madrid, Spain, in the 1960's as a child. And Melissa was not really interested in seeing the bulls get the sword, etc. So, we passed on the bullfights. It was, however, a good opportunity for Hemingway fans to connect with "Poppa Hemingway's" past.
WORKING ON THE MOON IN CARTAGENA
All while we experienced the fabulous attributes of Cartagena, Indigo Moon still required the attention she demands, and at a rate that was far quicker than normal. Cartagena was NOT the best place to keep a boat simply because it has the foulest water we've ever encountered. This made for lots of work in keeping seawater systems clear of barnacles and clams.
Boats utilize sea strainers in their plumbing systems to filter incoming seawater and keep debris from entering and damaging or clogging pump systems and lines. Main engines have sea strainers. The generator has a sea strainer. The air conditioning systems have sea strainers. The fridge has a sea strainer. The water maker has a sea strainer.
It is ironic that a boat's hull is carefully constructed and designed to keep seawater out, but as soon as the hull is complete, the very next step is to drill numerous holes in it and invite volumes of seawater back into the boat!
Any such systems that pump continually are subject to weeds, grass, small fish and other marine life that are trapped by sea strainers. More problematic is marine growth like clams and barnacles that infiltrate the system and grow irrespective of any filtering and screening of the system.
And, depending on how bacterially "foul" the water is, the growth can occur rapidly. The water in Cartagena Bay was somewhat clear, but it was extremely foul and it only took a week to clog our air conditioning systems and the fridge system. And not just the sea strainers, but also the pumps and cooling lines. In a word, it was phenomenal!
During our stay, I had to clean all the sea strainers every three to five days, and I had to rebuild and service various pumps three different times.
Just to put things in perspective, I have never had a problem with an air conditioning seawater pump, but in Cartagena, internal cooling lines that circulate water inside the pump's casing became clogged.
As I write this, it has been six months since we departed Cartagena and I just finished eradicating Cartagena clams from all the seawater systems.
Changing from on the go cruising life to marina life means a shift in work duties. All of a sudden the air conditioning systems are in play. Chores like buffing and waxing, and polishing stainless steel are much easier in port. Servicing ground tackle, such as re-galvanizing anchor chain is marina-type work that must be taken advantage of when tied up in the marina and not using the anchoring system.
Also, I bought some air conditioning service equipment and freon. No rules, no regulations, no EPA. A handyman can still do all his own work in Cartagena, and I was able to buy freon and a set of pressure gauges for way less than the cost of a service call to obtain a mere estimate in the USA. That allowed me to check the refrigerant in all the AC units and make sure they were in tip-top shape.
Here is a look at some of the work:
Yes, it is well known that Cartagena Bay is just plain nasty. I hired guys in the marina every three weeks to dive and scrape the bottom of Indigo Moon. When we finally departed Cartagena, it took three separate bottom cleanings by me to finally get all the barnacles off.
And I had TWO air conditioner sea strainers to clean continually, along with the fridge pump.
Several friends say that, as cool as Cartagena is, they would never take their boat back there and endure the "down and dirty foul water fight" and I have to say that it would be a close call for me as well.
SPANISH LESSONS
In between sightseeing, attending Holiday events, and working on the boat, we took six weeks of Spanish lessons. One and one half hours a day, four days a week, we learned some very basic Spanish and came away with enough to better communicate but also with an appreciation for the fact that we had but scratched the surface.
Our teacher, Amaury, came to our boat and we had a good time and learned a lot.
I know a couple of hundred words now, but my Spanish is purely "Tarzan" and I cannot by any means claim to really speak Spanish. I can point, like a baby, and say things like "truck" or "bird" or "thunder" and even say "I want a truck" or "I don't like thunder" but I'm a long way from being able to watch Spanish-speaking programs on television and understand what is being said, etc.
I can say, however, that I am now fearless and will spout out Spanish on the spot. I rarely come to a total impasse when trying to get my point across. The major problem comes when someone else speaks to me and I can't quite get a handle on any of the words they are saying.
That is always the rub. You learn quickly how to ask the right questions. Understanding the answer is a whole different kettle of fish!
Also, even with Spanish lessons and a teacher available, you may not know exactly what it is you are saying!
For example, during one of our Spanish classes with Amaury, Melissa was complaining to him about the street vendors in the Old City. She was getting tired of them chasing us around.
Amaury looked at me and said "I will tell you what to say. But only you can say it, Buddy, not Melissa. And after you say this, I guarantee you will get a reaction and they will laugh and want to be your friend and will stop pressuring you. Tell them them this phrase: 'estoy mondao.'"
Ok, well, "estoy" means "I am." But what does mondao (mon-DOW) mean? Amaury kept saying that "estoy mondao" merely means "I have no money." But where is "dinero" in that phrase and why isn't it "no tengo dinero", doesn't that mean "I have no money"?
Well, no matter how much I pressed for a literal interpretation, Amaury kept shrugging his shoulders with raised palms, saying "I have no money" it simply means "I have no money."
Finally, he assured us it was a colloquialism that only Cartagenians would react to. Try it in Bogota and you'd get a blank stare.
So, during our next trip to Centro, I tried it. Sure enough, my "estoy mondao" produced a smile, a laugh, and the vendor waved off.
Then, a hawker for an emerald shop came after me and I waited for the timing to by right: "No gracias, amigo! Estoy mondao!" Man, he went wild, slapping me on the back and laughing and still giving me a "thumb's up" when I looked back a block away.
This went on. Estoy mondao was magic. And as Melissa and I became familiar faces in the Old City, walking the streets for weeks. I actually had "fans" who would see me coming from blocks away and shout "Mondao!" "Amigo!" "Amigo!" and laugh and treat me like a long lost friend.
As the Spanish lessons went on and I continued to press Amaury for a literal interpretation. Again and again he declared that it means "I have no money."
Well, it was not until I was at Lee Miles' jewelry shop that the matter was cleared up. Turns out that "estoy mondao" means "I am a broke dick." No kidding. Down south in the U.S.A. the term "broke dick" means just what you would expect: a rather earthy and vulgar reference to a gentleman who is not exactly flush with cash at the particular moment.
Who would have thought that Cartagenians would be using that exact term, albeit with more affection and more humor.
So, there you have it! I spent a good two months at the urging of my Spanish teacher to establish myself as probably the most-famous broke-dick-gringo to ever walk the streets of Centro. And the locals loved me for it.
In fact, the adoration and friendship that resulted was strong enough to eclipsed the wave of embarrassment that washed over me when I finally discovered what I had been saying. Mercifully, there was never an "estoy mondao" situation involving little old ladies or priests, etc., and I was lucky to learn the true meaning before any real fuax paus occurred.
Anyway, hearing the phrase estoy mondao from a gringo must have been as funny to them as your grandmother quoting "you're my bitch" type rap songs. It was obviously so wholly unexpected that it was hilarious to the street vendors Old Centro.
BILL CLINTON AND HUGO CHAVEZ
What do those Presidents have in common?
Well, both Presidents provided additional entertainment for us in Cartagena.
First, we learned that when U.S. President Clinton visited Cartagena in the past, he made an even greater impression than I did, believe it or not.
Yes, U.S. President Bill Clinton was an absolute smash hit when he made a trip through Cartagena. From what we can understand, Bill danced with the chica chicas, smoked cigars, and donned a Colombian hat during his visit.
The Colombians were so impressed with Clinton's flamboyant playfulness that they named the hat after him.
As soon as I found all this out, whenever I was introduced to a Colombian, I would represent myself to be Bill Clinton. That always garnered a great laugh and big smile.
As to Hugo Chavez, well, during our visit in Cartagena, the Venezuelan President was making an ass out of himself as far as Colombians are concerned. First, he went behind Colombian President Uribe's back and negotiated directly with guerilla leaders in the FARC rebel group.
Then, during a summit in Europe, where Chavez was on a panel of speakers that included the King of Spain, Chavez began speaking in an uncomplimentary fashion about the Catholic Church. The King of Spain leaned forward and told Chavez "porque no te callas" (poor-kay no teh-kigh-yas) that means plainly and bluntly: Why don't you shut up!
Wow! Within one day of the news media's reporting the incident, cell phones in Cartagena were programmed with new "ring tones" that were downloaded from cyberspace. It was the sound bite of the King of Spain telling Chavez to shut up.
So, wherever you went, it would not be long before a cell phone "rang", not with bells or a catchy tune, but instead with a little voice screaming "porque no te callas; porque no te callas" . . . . "porque no te callas; porque no te callas" and to which all within earshot would howl and laugh.
"Porque no te callas" also became gringo material for getting an easy laugh from locals. You'd be surprised at how effective it was with a little timing and set in the proper context.
So, who says Chavez is worthless . . . we had a lot of fun in Cartagena, all at his expense.
SO, IN THE END, WHAT ABOUT COLOMBIA?
Well, as to the personality of the entire country, I obviously can't say. But as far as Cartagena is concerned, we found that the city was as safe as any big city anywhere. There was not any sensation of being at risk, nor any outward indication that we were in a country still smarting after centuries of continual war.
In fact, the personality of Cartagena was totally void of any overtone that would support our North American "mind's eye" vision of a violent culture.
Sure, Colombia's bloody history is real. But in Cartagena we found ourselves surrounded by warm and friendly Colombians living life at a comfortably slow pace, all while enjoying a rich culture based upon hundreds and hundreds of years of influential history.
Also, the Old City of Cartagena does not yet suffer the level of crass tourism that New Orleans' French Quarter does. Much of the Old City is still made up of working neighborhoods and its irresistible charm is still firmly rooted in honest authenticity, not the latest T-Shirt design or tourist catch-phrase.
But that won't last. Cartagena's Old City is rapidly on the rise as a major international tourist destination. Cruise ships are now frequenting the harbor and that can only mean terrible things for the charm of Old Cartagena in the long run. If a cruise ship ties up, all the big franchises like Hard Rock Café, Planet Hollywood and Margaritaville are not far behind.
In fact, a brand new Hard Rock Café opened in the Old City during our stay there – the first indication that Cartagena's booming success as a tourist attraction now poses real risks to its genuine personality.
But, as we all know, prosperity brings good things too. A brand new Home Center opened in Cartagena while we were there – a beautiful big store like Home Depot or Lowes and it was amazing to see something like that in the Caribbean. Also, the supermarkets were extremely nice by Caribbean standards.
Conversely, the streets of Cartagena are still "third-world-dirty" and sanitation is not as good as it should be. Indigo Moon's rigging was almost black from the airborne pollution and dirt blowing through her stays from the city streets. No trash bag makes it to the dump intact it seems. Soon after a garbage bag is thrown, somebody opens it and goes through it, sometimes throwing loose trash into the bay while the refuse is combed through.
It's all tradeoffs.
In the end, we felt so very fortunate to have visited Cartagena at precisely the right time in history. It was safe and afforded us with many modern conveniences, but it has not yet developed into a tourist-trap t-shirt-cliché like so many formerly charming places in this crazy world.
The bottom line is that whenever I hear someone say Colombia nowadays, I don't envision Pablo Ecobar, or FARC guerillas, or Al Pacino in Scarface anymore. Those images have been "overwritten" on my mental "hard drive" and now I see nothing but wonderful images of our fabulous personal experiences in Cartagena.
So, ask me about Colombia and I'll tell you of a place where beautiful people live a wonderful life by the sea. I'll explain that their priorities are centered around family, devotion and friendship. Moreover, that the people of Colombia enjoy a proud history that is rich in significant culture. It is a place that is unhurried but hardworking, simple and complex, modern yet also primitive.
Say Colombia and I feel warmth and friendship now, not fear.
I smile and think of a sultry, late afternoon in December when twenty wonderful, happy teenage kids stood on the bow of the Gloria and waved back at me, welcoming me with open arms to their beautiful Colombia.
I also think of saying goodbye to dock master Carlos Rojas at Club de Pesca. With a handshake turned into a hug by him, he became teary-eyed and explained in Spanish that Melissa and I are very fine people and that is hurt his heart to see us leave.
My Colombian daydreams take me back to a wonderful place where, for a golden moment in time, Indigo Moon floated in a perfect world of international yachting fellowship where fun, fashion, fishing, food, free ice cream, and perfect sailing days surrendered to evenings of relaxed sophistication and unparalleled Colombian hospitality.
We untied our lines and headed out of the Bay with heavy hearts, and we knew that somewhere over the last three months we had fallen in love with Cartagena, New Orleans' Latin American twin sister.
ONWARD TO PANAMA
As much as we enjoyed Cartagena, it was nonetheless time to move on. So where to next? Panama!
We sailed out of Cartagena Bay and once again out to the Rosario Islands. I cleaned the bottom, ran the watermaker and the generator, and checked out all the seagoing systems that had been "asleep" while we were in marina-mode. If there was a problem, we could go right back to Cartagena to get repairs.
Luckily, it turned out that Indigo Moon was fully operational and "ready to rock!"
So, here is the plan. We'll get a good night's sleep at the Rosarios and pull the hook mid-morning tomorrow and head out on an overnight passage to the remote San Blas Islands located off the northern coast of Panama.
It is there in the San Blas that Kuna Indians still live in traditional island villages and sail dugout canoes amongst hundreds of small islands rimmed with white sand beaches and covered with coconut palms.
Here is a little preview:
The San Blas Islands are a South Pacific scene like no other in the entire Caribbean. So, stay tuned for our next installment where we explore these island and meet interesting locals, including a six-foot red-tailed boa constrictor snake that decided to swim out the The Moon and hang around, literally!
Until next time,



If you would like to receive an e-mail notifying you of updates to the web site, subscribe here.