Marathon to Fort Lauderdale to the Bahamas
January 10, 2005 - February 23, 2005
The last two months have been spent feverishly preparing and outfitting Indigo Moon for long term cruising. It has been a whirlwind of maintenance, repairs and eventually making headway toward the out islands of the Bahamas .
As I begin writing this report on March 8, 2005, I am watching the sunset over the Bay at Hope Town in the Abaco Islands of the Bahamas. In fact, I stopped typing as the sun ducked below the horizon to go out on the front deck of the boat to blow the conch shell horn my mom brought me from the Pacific over fifteen years ago. A guy two boats over is blowing his too and we perform an island-style sunset salute. I finally figured out that the goal is to hold a continuous note as long as you can, from the time the sun first touches the horizon until it slips completely out of sight. I ran out of air just before the guy next door. Can it be; a guy with more hot air than me? He might make a good family law lawyer.
It's been a while since we have updated the site, so in order to bring things up to speed, I will cover a lot of ground in this report in three chapters: 1) Marathon; 2) Ft. Lauderdale; and, 3) Crossing the Gulf Stream to the Bahamas.
Part I: MARATHON January 10-22, 2005
Marathon was the first stop after we departed Louisiana. We spent almost two weeks at Driftwood Marina. A local company by the name of SALT (Sea Air and Land Technologies) did a very professional job of fixing our refrigerator. As it turns out, the freon line on the compressor was never soldered properly at the factory. SALT removed the compressor and took it to the shop where the line was soldered (brazed), the compressor reinstalled, and the unit charged with freon. Without wanting to jinx anything by so saying, the refrigerator is now working flawlessly.
We made a really good friend in Marathon, namely Ed Watson a.k.a. "Snoozer" (rumor has it he's done a lot of sleeping at the helm). Ed ran a fishing fleet in New Jersey for years and is now retired and living aboard his great sailboat, a Whitby 42 named New Hope. While in Marathon, Ed hauled us all around in his truck and was a real friend, willing to help at a moment's notice with anything we might need.
Our stay in Marathon was, for the most part, a repair episode with little junkets to Key West and Ft. Lauderdale mixed in.
Marathon marked the beginning of boat "shakedown." In addition to the fridge repair, the mixing elbows on all of my engines went bad. These "elbows" are parts used at the exhaust of marine diesel engines, bolted directly on the engine, to mix the raw salt water used for cooling the engine with exhaust as it exits the engine to the mufflers and exhaust outlets. These elbows are stainless steel, but only last about three years and then rust through and leak. The boat is a 2001, so do the math.
Half a "boat unit" ($1,000.00 is a "boat unit") later in parts costs and an hour of simple labor and the mixing elbows are all replaced.
About five months ago, Melissa ordered a kayak over the internet from a water sports store in Ft. Lauderdale. When we were in Marathon, we were not sure we would even stop in Ft. Lauderdale, so we rented a truck and drove up to get the kayak. We drove back down to Marathon with the kayak and loaded her on Indigo Moon.
Also, amid my replacing of engine parts, I repaired a water system leak, fixed a loose floor panel in the cabin sole, changed the oil and filters in all three engines, and focused my earnest efforts on the water maker installation that seemed to be dragging on with no end in sight.
Thankfully, it was not all work, though. We drove to Key West for an afternoon during "Race Week" and the place was buzzing with numerous sailing regattas.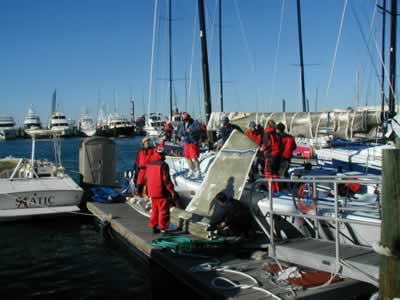 That sail they are flaking on the dock is computer designed Kevlar and probably costs more than a new outboard and dinghy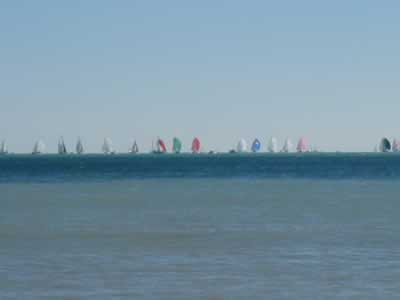 Several races can be seen underway with spinnakers flying to the south east off Key West
As part of the water maker installation, we needed to haul out the boat and install a "through hull" valve fitting to let water in for the water maker system. We also needed to raise the bottom paint while we had the boat out "on the hard."
After some soul searching, and doubts about whether or not we could get hauled out in Marathon and have everything we needed in the way of parts, Melissa and I decided to sail to Ft. Lauderdale and have everything done (and done right) by taking advantage of the amazing array of professional yacht services available in Ft. Lauderdale.
Trying to get parts in the Florida Keys is a hassle and there is also the practice of, well... quasi extortion of sorts in that some marinas will charge an additional 20 percent or more to your repair bill to allow a repair company like SALT, for example, to board your boat to fix something. That's right. Believe it or not, at some marinas a service company cannot come aboard your boat to make repairs without checking in at the marina office so that the marina can charge you too.
Yacht repair persons will not ride in a dinghy out to your anchored boat either, because of alleged insurance constraints and lawyers, etc. So, you must be docked to get repairs and this has set into place the circumstances that are allowing marinas to begin the "add on to the repair bill" practice. Nothing of value is provided by the marina. Marathon Marina has adopted this arguably unconscionable practice and upon learning of such we moved after two nights to Driftwood Marina to escape such offensive billing practices. The folks at Driftwood were cool. I would have let Driftwood pull the boat out, but alas their lift was not wide enough for our boat.
Against the back drop of the remoteness of the Keys, low availability of in-stock parts, and the marina repair fee scams, we decided to head to Ft. Lauderdale where we could also visit with friends we made at the Catamaran Company when we bought the boat.
Part II: FT. LAUDERDALE January 22, 2005 - February 22, 2005
We enjoyed Snoozer's company in Marathon, but it was time to move on. John Breedlove and Terry Brown of Driftwood Marina in Marathon had taken good care of us as well, but we needed to finish outfitting the boat and get it done timely.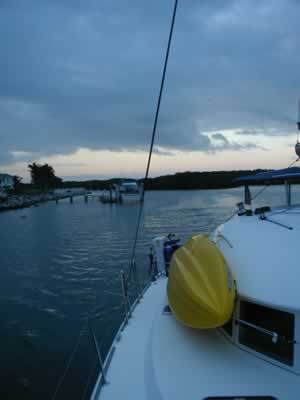 Early in the morning we leave Marathon Key, winding our way through mangrove lined canals to the Atlantic.
It's a beautiful two day trip to Ft. Lauderdale and we anchored overnight at Pumpkin Key inside Angelfish pass.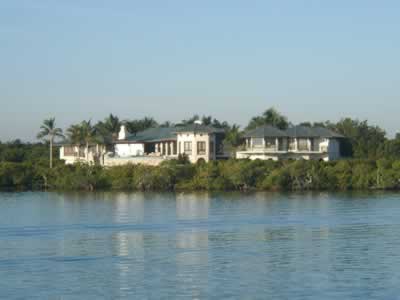 A nice estate on the corner at Angelfish pass, right on the Atlantic.
Another catamaran came in and anchored in the dark. The next morning I took a picture of the custom rear arch and bench seat made out of aluminum pipe. Wow, that must cost ten or fifteen "boat units" to get fabricated! Looks like it would be fun to ride way up there on that rear bench seat when the weather is nice.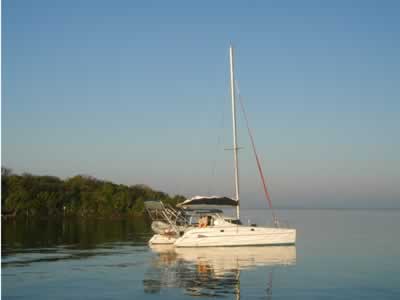 Cat with custom seat and arch on the stern.
Because the Atlantic had been rough for weeks with heavy winds out of the north, we were planning on going on the inside from Pumpkin Key on, using the Intercoastal Waterway as the coast turned north through Miami and then on to Ft. Lauderdale.
We were delighted, though, to find calm winds and the best weather in weeks that allowed us to stay out in the Atlantic all the way to Ft. Lauderdale.
It was exciting to see Key Biscayne rise up on the horizon. The shore changes from the low, scrub islands of the Keys to hundreds of high rise condominium complexes between Key Biscayne, Miami and Ft. Lauderdale.
There is also mega boat traffic. I never heard so many requests for a "radio check" on the VHF radio in my life. It was not continual but rather continuous. And, forgive me all you northerners, but the radio chatter is laced with amazingly snotty exchanges between Yankee snowbirds on the loose. Also, Cuban machismo can be easily detected. There is no cussing, but lots of heated banter with adjectives like "idiot" "fool" and "moron" are exchanged by vessels within sight of each other. The Coast Guard obviously has its hands full here, overseeing this "zoo" on the water.
The port at Ft. Lauderdale is named Port Everglades. It is very busy with cruise ships and what appears to be about an equal number of both skilled captains and absolute fools (or idiots or morons –you pick the adjective) who have bought five-million-dollar-plus power boats and have no clue about seamanship.
It is Saturday afternoon and the Port Everglades ship channel is the busiest channel I've encountered in a while. To my amazement, as I approached the 17th Street Causeway Bridge, the bridge tender (a lady with a velvety smooth voice) called me:
"This is the 17th Street Causeway calling the catamaran approaching south of the bridge."
I respond to the call.
She asks: "It is a little after my 3:00 p.m. opening, but would you like an opening?"
I answer yes, in disbelief.
This is a first -- a bridge tender picks me out of major traffic and helps me out!
After making it under the 17th Street Causeway Bridge we head for Riverbend Marina up the New River.
I see a familiar house from my prior visits to Ft. Lauderdale when we bought Indigo Moon. According to the tour guide on a previous boat tour we took last year, the guy who owns this house invented a valve that is utilized in the air conditioner system of every General Motors vehicle made, and he gets some dough from the sale of each and every one of them.
Also, we caught a glimpse of what I think we heard a passing tour boat (you can hear their louspeakers) describe as a house for the coach for the Miami Dolphins. I guess LSU's past coach, Nick Saban, will now enjoy it since he has jumped ship from LSU and will be coaching the Miami Dolphins.
After four more draw bridges, we arrive at Riverbend Marina. Ironically, this is the same marina (actually a working boat yard and not a marina) where Indigo Moon was docked when we surveyed, sea trialed, bought, and set sail with her to take her home to New Orleans.
Here are some highlights from our month spent in Ft. Lauderdale working on the boat:
Meanwhile, the inside of the boat is an absolute wreck as I add equipment and make repairs that are just too long to list. I won't bore you with all of it, but here are some pics:
Melissa said it was like Indigo Moon was getting a Spa treatment.
In addition to all these other tasks, I drilled two holes in the starboard hull, one below the waterline and one above. I installed a through hull and valve in the hole under the waterline for the watermaker intake, and also installed a discharge fitting in the hole above the waterline for saltwater by product to exit the watermaker system. Drilling holes in boats to install valves and fittings is always a bit nerve racking. You hope nothing leaks when the boat is "splashed", otherwise it would mean big trouble and pulling the boat back out again ($$$) to fix leaks. Luckily, my work was good and the fittings were all watertight.
While in Ft. Lauderdale, we got to see Brian and Brent Hermann, brothers who worked on Indigo Moon a year and a half ago right after I bought her. Both of these Indiana boys now work for the Catamaran Co. and live in Ft. Lauderdale.
Brent Hermann is now a broker for the 2Hulls outfit now owned by the Catamaran Co. If you need a catamaran, go to www.2Hulls.com and get in touch with Brent – he's a really good guy. Brent generously let us stay in his apartment for almost a week while Indigo Moon was out of the water getting her bottom job.
Brent's older brother, Brian Hermann, has just been named Service Manager for the Catamaran Co. and we were glad to see him advancing in the business. Brian is a licensed Captain and a pure sailing/cruising enthusiast who single-handed his own sailboat around the Bahamas and Caribbean for a few years when he was in his twenties.
We also had lunch with Michael Harris, the Catamaran Co. broker who closed the deal on our boat. Call him too if you need a catamaran.
As if all that was not enough, Gaida Cabral, "Goddess of the Catamaran Co.," graciously invited us to her home to meet her beautiful daughter and for a delicious home-cooked meal of grilled steak, shrimp and fried plantains.
We also spent a good deal of time with the irrepressible Captain Scott Vanerstrom (who came with me to deliver the boat to New Orleans after I bought it). Scott was a tremendous help too as he knows so much about the Lagoon catamarans, knows everybody in Ft. Lauderdale, and knows where to go to get any part, etc.
Everybody we have met through the Catamaran Co. are truly good people and we consider them all to be dear friends.
We did not get to spend as much "fun" time with all of them as we would have liked, though, because Melissa and I were working long days on Indigo Moon while they were all furiously making ready for the Miami Boat Show.
Lagoon has just come out with a new model 440 that is absolutely spectacular. It is huge compared to our little 38 footer. All the Catamaran Co. guys were getting boats ready, including a 440 that was just shipped in from France via container ship for the Miami Boat Show (it is already sold, though, and there is a waiting list if you want one).
We got to see the new 440 up close:
There is nothing prettier than the "innards" of a brand new boat. The 440's equipment under the cabin soles looks great.
After we looked at the Lagoon 440, we rode back to Riverbend Marina in the dinghy. We saw some awfully big Iguanas in a tree over the River.
Even though Riverbend is an incredibly dusty, dirty, working boat yard, there is wildlife there! Here is an Iguana that would not let Melissa off the boat one morning – I finally shot it with the water hose!
Also, one morning a mama manatee and her pup showed up at the bow of the boat, obviously to drink the fresh water dripping from a leaking waterline.
Since they were after fresh water, I got the hose and gave them a better taste.
Boat yards are interesting, because you get to see what is getting worked on and why.
Here are some shots of the "goings on" at Riverbend:
And so it goes.
For you fans of the movie Captain Ron, the manager of Riverbend, Robert Koch, owns a Formosa ketch as seen in the movie Captain Ron. Also, both of the actual boats used in that movie have been worked on at Riverbend.
Ok, so here's the deal. There are scores of twenty-plus million dollar yachts, hundreds of three to five million dollar yachts, and thousands of little under-a-million-dollar boats like mine in Ft. Lauderdale.
Ft Lauderdale is a real hot-spot for the ultra rich. On the street there are cars like I have never seen, not even in California - Ferrari, Lamborghini, Rolls Royce, Bentley . . . everywhere. AMG Mercedes Benz? That's nothing. You see as many of them in Ft. Lauderdale as you see Honda Accords in Baton Rouge. It really is amazing how much wealth is here.
Also, I was laughing while pointing out to Melissa that the same woman is everywhere on stylish Las Olas Drive: shoulder length blonde hair; two carat earrings; four carat engagement ring; great figure (through enhancements); tan Capri pants; white pull over short-sleeve top almost a size too small; five hundred dollar sandals; three hundred dollar pedicure; and, three shopping bags in each hand. They all look the same.
We were eating at a popular seafood restaurant, The Rustic Inn, one night and the waitress apologized that things were 'a little hectic' and service was slow because Keith Richards of the Rolling Stones was allegedly in the bar. I didn't know that having a cadaver in the Bar would slow things down.
Anyway, here are some glimpses of obscene wealth:
That's what the scene looks like in Ft. Lauderdale.
Once the work on Indigo Moon at Riverbend was complete, we moved to the Las Olas City Marina to enjoy a few days only three blocks from the beach. Our friends John and Sherry McElwee, previously from Baton Rouge and now from the Orlando area, came by on their way with friends to Islamorada in the Keys and we had lunch.
Also, we got to hang out with our friend from Plaquemine, Louisiana, Andre Dupont who is an executive with Show Management, the outfit that does the Ft. Lauderdale Boat show, among others. Andre had us over for dinner and cooked "Shrimp ala Andre." I met Andre through his sister Abie, who is also a Louisiana lawyer and practices in Baton Rouge.
Indigo moon is now ready for cruising. She has new bottom paint. She has been buffed and waxed. Her lifelines and stanchions have been polished. She now has her name on both bows. She has a new thru-hull valve and seawater strainer to provide seawater intake to the new water maker. Her toe rails of teak have been bleached, sanded and sealed.
After welding modifications, an outboard motor bracket has been added to the starboard aft railing so that the dinghy outboard motor (it is heavy) can be removed from the dinghy and secured during offshore passages. I also bought a small crane to lift the outboard from the dinghy and onto the new railing mount.
I have a new 12 volt breaker panel to wire into the system to allow for the addition of more 12 volt equipment such as the Single Side Band receiver we bought to obtain weather faxes. I also want to add some spotlights on the stern, a saltwater washdown pump, and a few other gadgets. As if that's not enough, I also have a microwave to mount above a cabinet in the galley and must run wiring and install a new AC outlet too. The water maker is fully installed and a factory service tech came out and commissioned it.
There is nothing left to do that I cannot do underway. We have spent about fifteen "boat units" on servicing, gear, and car rental for three weeks in Ft. Lauderdale. We saved at least that many more boat units by doing so much work ourselves.
Once the hard work was done, it was time to provision the boat. A pathologist from Miami, who also owns a Lagoon 380, provided us with numerous prescriptions for our emergency medical kit. Considering we are licensed boat captains, Captain Melissa was able to buy sutures, I.V.'s, syringes and the like directly from Marine Medical International in Fort Lauderdale.
We also bought about one boat unit ($1,000.00) worth of food.
We were getting set to head to Key West. We had planned all along to go to Key West for at least a month. We would rent a mooring by the month and were looking forward to riding our bikes, photography, diving, and just generally soaking up the ambiance of Key West and the Dry Tortugas.
Then I got to looking at the weather report. It was perfect for crossing the Gulf Stream to the Bahamas. After a ten minute conversation, and lots of grinning, Melissa and I decided to head somewhere entirely new to us -- the Bahamas! We decided to leave for the Bahamas the very next day and figured we would do Key West later.
That's what living on a cruising sailboat is all about folks -- freedom to make a major course change on a whim at any moment, especially when Mother Nature extends a gentle hand. So, we decided to "go with the flow" and were Bahama bound.
Part Three: Gulf Stream Crossing to Bahamas February 22-23, 2005
Crossing the Gulf Stream can be dangerous. If the weather is wrong, the seas in the stream are treacherous and can build to breaking, twenty foot waves despite surrounding seas being much calmer. If there is any wind out of the north, opposing the stream which flows from south to north, then the two forces clash and steep breaking waves form.
The weather report was for winds out of the south (with the stream, not against it) diminishing to less than five knots over three days with seas almost flat, including the Gulf Stream. Perfect.
We left Las Olas City Marina in Fort Lauderdale at 3:00 a.m. so as to ensure an early afternoon arrival in the Bahamas. It is about 68 miles from Ft. Lauderdale to West End on Grand Bahama Island. Piece of cake compared to 550 miles of open water we traversed crossing the open Gulf of Mexico.
Here are some "trippy" night pictures of our departure. My digital camera doesn't adjust shutter speed well enough to prevent time lapse effects, but these pictures still capture the mood and show that the water surface is flat calm, like glass. Only the wake of Indigo Moon is working upon the water.
Being on the helm at night always allows me to decompress. As you know, the human mind is amazing in its ability to process thought quickly. To this day, it is said that no computer can match it.
As I saw the lights of Ft. Lauderdale disappearing to our stern, I thought of all the hard work we have done and all the systems on Indigo Moon that we must monitor and keep running.
In a split second, I thought about the guy on the Ed Sullivan Show who used to spin all those plates on wobbly sticks and keep a dozen or so going at once – that's the Indigo Moon and her systems. That's also practicing law as a solo practitioner.
In another split second I thought of my childhood in the small town of New Roads, Louisiana, and of watching the Ed Sullivan Show on warm spring nights with all the doors and windows open such that the smell of the Sweet Olive and Magnolia trees in the front yard drifted through the screen doors and into the living room.
Then, in another flash, I remembered listening to music at night in that same living room with all the lights off except that of the HiFi. The HiFi had vacuum tubes that glowed softly and interestingly, very much like the warm and inviting city lights of Ft. Lauderdale disappearing to my stern.
Within the fourth second, I thought of how amazing it was that I was making way toward the Bahamas on my own boat with Melissa, soul mate and love of my life. I thought of how I could never as a child have ever imagined I would one day be lucky enough to be gazing upon the lights of Ft. Lauderdale from the Atlantic under such exciting circumstances.
By the fifth second, I focused my attention back to navigation and business at the helm. I felt an overwhelming sense of happiness and peace. And that is night watch to me: jewels of thought randomly harvested in spontaneous four second flashes.
A few hours later, as the sun's rays begin to stretch out above the horizon, we find the Gulf Stream to be super-friendly. It is still dead calm with winds less than five mph. Indigo Moon has a cruise speed under power of 7.2 knots. With the added push of the Gulf Stream, we are making almost 10 knots!
In no time, we are in the Bahamas and arrive at Old Bahama Bay Marina at West End of the Island of Grand Bahama. The water is a stunning aquamarine and the weather is beautiful and warm! We marveled at the water clarity.
Once inside old Bahama Bay we tied up to the seawall and I checked in. This process is as follows: raise a solid yellow quarantine flag; the Captain collects all the passports of the persons on board and goes ashore alone; the authorities issue all necessary documents; and, the Captain returns to the vessel and raises the Bahamas courtesy flag in place of the yellow quarantine flag to indicate that the vessel has checked in. Once that is complete, all passengers may go ashore.
We were happy to be in a new country we've never before seen. As the sun set over Old Bahama Bay, we were thankful that Mother Nature provided such a beautiful passage to the Bahamas and we were already excitedly poring over charts of where we might go next. The Bahamas are made up of hundreds of islands and we have lots of options.
So then, that gets us caught up here on the web site to our entry into the Bahamas. We have been here since February 22, 2005, and have more updates in the works and lots of great pictures and stories of what we have been doing here.
As I finish this installment, we are on a mooring in beautiful Hope Town Harbor in the Abaco Islands of the Bahamas. I am looking out the salon windows of Indigo Moon at the famous candy striped lighthouse of Hope Town as we swing gently back and forth on our mooring.
We went snorkeling the day before yesterday on a beautiful reef in the Atlantic. The visibility underwater was "gin clear" as they say.
We watched To Kill a Mockingbird on DVD last night.
Today, it is overcast and a front is coming through such that it will storm hard tonight. We took the dinghy to town this morning, hunting fresh bread. The bread was not out of the oven yet so we went to the Hope Town Museum and read about the Lucayan Indians who were first here, and then read further on the development of this area -- a history that includes piracy, rum running, fishing, wrecking and salvaging of ships on these reefs, and finally tourism.
Melissa is making soup and grilled cheese sandwiches for lunch. It's starting to sprinkle outside. The generator is purring. I see a nap in my future.
Until Next Time, Fair Winds-