Delivery to New Orleans
Saturday, 08/30/03
Mid-morning departure. South out of Fort Lauderdale with Buddy Stockwell, Baton Rouge architect Chris Remson, and hired delivery captain Scott Vanerstrom from Miami Beach.
Wind is 18 to 20, seas 5 feet with occasional 6 and 7's. This cat is fast. We are loaded down with full tanks and an additional 150 gallons of fuel and we still passed all other sailboats heading south. Autopilot operating perfectly, but B&G QUAD instrument for speed, depth, water temp is intermittent. Scott called the radar installer, Blondin, on his cell phone and arranged for us to pull in at Miami Beach (cost me $45 to tie up to a wall for four hours). The brand new Furuno radar/plotter system I had installed by the Catamaran Co. in Ft' Lauderdale is drawing too many amps for the wiring when added to the other equipment on the same breaker. Problem was fixed by adding larger gauge wire. We are in essence conducting a sea trial and shakedown cruise on this delivery and I hope we do not encounter too many problems.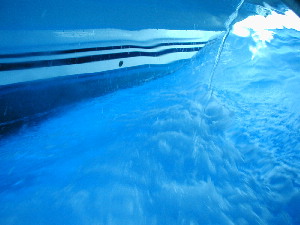 Also, Furuno screen at the helm is a dual display for radar or GPS plotter and worked fine, but the unit at the nav station only shows radar and has no GPS plotter information and is not programmed right. The installer could not figure it out. Scott tried to fix this coming out of Ft. Lauderdale but only managed to make it worse such that neither unit displayed GPS plotter information. During our stop in Miami Beach, after upgrading the wiring, Blondin called one of his buddies on the phone and spoke Spanish for forty-five minutes to get the one plotter at the helm working again and we left well enough alone.
Having fixed the wiring and getting one GPS unit back up and running, we get underway and it's late afternoon as we head out of the Miami Beach pass. Coming in the swells in the pass were very large - 10' plus. On the way out, we fell in behind a huge Royal Caribbean cruise ship that was headed out too. It broke up some of the swells so we could duck out in it's flat wake and then turn South without much drama.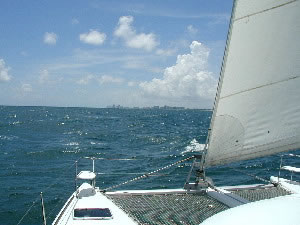 Nightfall - I am on watch 9:00 pm-12 midnight. Numerous t-storms and I am anxious to see how the boat will perform. Radar is excellent and it is indispensable in my opinion to know what's ahead and how far away. We alter course to dodge small storm cells until late night. Solid lines of storms start to form ahead and we finally drop all sail and motor without course deviation for storms -- just plow on through. Boat handles 30 knot gusts and seas better than I ever expected and I am happy about that. I go off watch at midnight and turn it over to Chris.
Sunday, 08/31/03
I have 3:00 am - 6:00 am watch. Beautiful; two cruise ships are headed south along with us and are about 3 miles farther off the coast than we are; early morning showers and good rainbow. Captain Scott is still searching his soul on the weather and is having second thoughts, wanting to head to Key West and then re-evaluate before crossing the Gulf. It is difficult to get him to even leave Ft. Lauderdale, and our departure is delayed by a whole day.
Numerous cell phone calls to my wife, Melissa, in Baton Rouge and weather updates through her from the NOAA website refutes Scott's weather fears. Melissa reports that had we left on Friday as scheduled we would not have experienced any bad weather at all, and that if we can just get around the tip of Florida and to higher latitudes in the Gulf, we will be clear of the stream of tropical storms that just kicked up.
Despite Scott's dead set idea to go to Key West, I urge we cut across at Marathon and stay as far north of the tropical storms as possible. Melissa reports that higher latitudes are still clear and if we can just get around south Florida and back north a little, things will clear for us. I finally convince Captain Scott to go for it and cut through at Marathon. We pull into Marathon and Boot Key's fuel dock and top off fuel and ice.
I dive to check rudders for any debris. While servicing the engines, I discover saildrive fluid is leaking on the starboard engine saildrive and is showing up around the flange where it bolts to the hull. We only have half a quart of sail drive fluid. We torque the flange bolts, clean up the leak to try and see where it is coming from and will monitor the severity of the leak.
Bad storm forecast on the VHF radio as we are about to leave. Skies are dark to the South and it looks bad, but we make it out of Boot Key and out through Flagler's railroad bridge (the one they blew up in the movie "True Lies"). We have about 8' clearance under the 65 foot Highway 1 bridge. Now making way out of the western side of the keys and heading toward the Gulf of Mexico I dodge lobster pots (a real minefield as it is lobster season in the Keys) and turn it over to Chris at 6:00 pm. At midnight it's my watch. Scott woke me up and it was storming and raining so hard all I can see is the lights on our boat and we are surfing down waves into blackness - boat is happy though, and as soon as I wake up enough to really comprehend things it is not as terrifying as I first thought.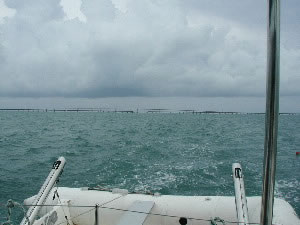 Just to make things interesting, though, Captain Scott (as he departs the helm) casually says: "there is an antenna tower out there that we can't see so I am dodging 10 degrees to port right now" (tower is buried somewhere in radar storm targets). Within 30 minutes, the storm passes, and I can see the lights on the antenna tower well abaft of our starboard beam and things calm down - I change course to get back on track and the sky clears.
Milky Way is bright and I see two really good shooting stars. I wish for a safe trip, twice. An hour or so later another storm approaches from the East and looks so bad I wake Scott to see if we should try to dodge it considering it's six miles away and closing. I saw the largest multi-vein lighting strike from cloud to sea I have ever witnessed. Oddly, by the time Scott woke up and I told him about it, the radar target disappeared and the storm seemed to dissipate instantly into a few thin clouds that passed overhead. Scott mumbled and grumbled and went back to sleep. I figure the disappearance of the storm cost me both wishing star credits.
Monday, 09/01/03
Woke early at 7:00 am even though my watch starts at 9:00 am. Put out fishing lines and checked starboard sail drive and it's still leaking, but not too much. We will wait until my watch at 9:00 a.m. to stop the boat and check all fluids (which we would do every morning). At the 9:00 am stop we checked saildrive fluid. The leak is so slow it does not require additional fluid and it looks like we will make it. Both engines take oil though. Turns out both engines are leaking oil from the oil filters. Both filters could be easily tightened by hand (especially the starboard filter which had leaked about a half quart into the bilge).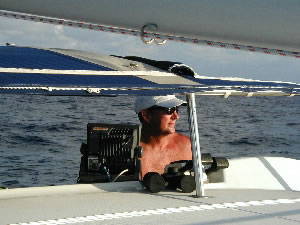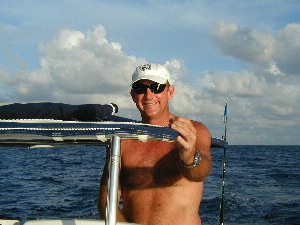 After the service stop we are underway again - had a good fish on (looked like a mahi mahi), that struck the green Rapala lure but it threw the hook within thirty seconds. After that, bottle nosed dolphins came and played at the bow and I got a good picture. Blue water. The boat is everything I hoped for despite the little maintenance issues nagging us. Caught a Bonita during my lunch - if you want to catch a fish sit down to eat a sandwich! Threw it back and cleaned the blood off the boat. Chris and I watched dolphins again on the bow. It was a very cool show.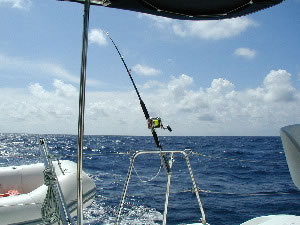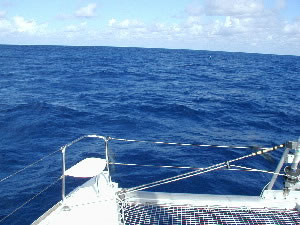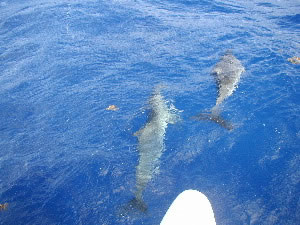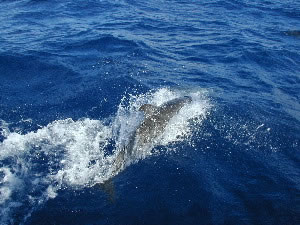 We refilled fuel tanks underway with siphon hose. Sail drive leak is very slow and stable such that it is no longer a concern. We saw a pod of about 12 dolphins at bow and watched them until almost sunset. Chris and I saw the green flash. The sun was sharply defined on the horizon and "flash" is the retina burn for a second after the sun disappears. Clouds loom again in twilight emanating from Florida and heading at us from the East. Looks like it will be another scary night (although as more time passes I have steadfast confidence in the boat).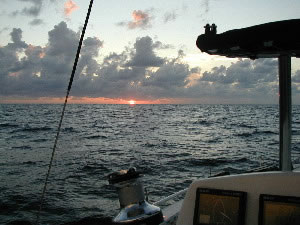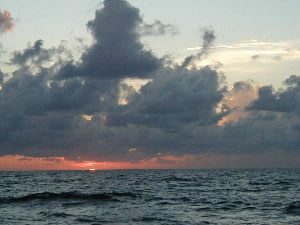 It's my watch 3:00 pm - 6:00 pm and the storms never really develop - just some wind puffs up to 28 knots and low lines of dark clouds pass by. Scott cooked steaks. I check the port keel bilge - has water. I pump it out and find both bilge pump filters need cleaning very badly, so I do so. I discuss the water in the port hull with Scott and he thinks it's condensation from running the three AC's at Miami while Blondin worked on wiring. Two ofthe AC's drain into the port bilge. I trace wet trails to under the port forecabin floorboard near speed transducer through hull and waterlines to freshwater tanks. While looking in the area I see bubbles at the through hull nylon nut and gasket for the speed transducer. Yikes! A leaking through hull- that's all I need! Scott suggests we leave it alone, because to putty or seal around the inside may cause water pressure to force moisture into the laminate of the hull. To tighten it might strip it or make it worse. It's very slow so better to let it pass through. We have an additional leak to monitor.
Tuesday, 09/02/03
On watch at 3:00 am. No night rain for first time on the trip. Saw a tug and tow within 2 miles passing on its way to Tampa. We are concerned that there is a tropical development in the southwest Gulf. We are listening to tropical updates on the VHF when possible. We caught a favorable current and are doing about 7.4 knots SOG. Wake up after a few hours sleep. Seas are still relatively flat. We are in true blue water. Mid morning we see only two small showers and try to catch one to rinse off the boat but can't - one had a nice little water spout.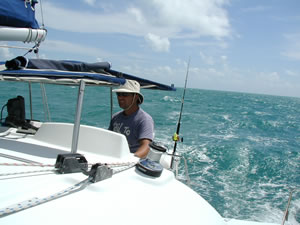 It is very sunny - a pretty day. We are making very good speed (8 knots) because we still have very favorable currents. Fishing lines are out, but nothing biting. Water is INDIGO. I spent much of the day tinkering - tightening lifelines, polishing bright work and winches. Sail drive leak is stable. Still no fluid needs to be added, even after running twenty four hours a day. Port sail drive is a little wet too. Starboard engine using a little more oil than port engine; both engines run perfectly hour after hour. Skies are very blue. See several con trails with jets going back and forth across the very big sky. We do not see another vessel today. I can get used to this!
Scott cooks spaghetti and we run the gen set for the first time. Air Conditioning is glorious. After supper a bird tries to fly into the salon - we are lucky because A/C is on and the door is shut. We listen to one of Jewel's CDs and watch the sunset. Life is good.
I am on watch from 9:00 pm to midnight while I write this. We do another refuel while underway with Scott always proud to demonstrate his refueling on the run by siphon-feeding the fuel tanks from jerry jugs without spilling anything or even slowing down. We are like a little cruise ship steaming day and night. The Yanmar diesels sing like sewing machines and never miss a lick for days now. Since leaving Marathon the wind angle is too close to jibe angle to trust the autopilot and we would not be able to sail as fast as the engines push us on this angle anyway, so we motor and have the fuel to do so. Scott unfurls the jib trying to get a little help from the wind but lost a knot so we roll it back up and motor.
I notice Blondin stripped a screw on the mast mounted deck light that was refitted under the radar antenna. And now the stern light quit working (just needed the contacts cleaned - I do it when daylight permits and the light works fine thereafter). Fuel smell from fuel fill hoses (now replaced with better hoses) in owner's stateroom is gone until A/C turned on and then came back, but much fainter. Scott says it takes a long time to fade. It's 9:45 Eastern time and Scott and Chris are sleeping. Seas are 1-2 feet. I am making 8 knots and a brilliant crescent moon is waning to the west. Shore feels much nearer.
Wednesday, 09/03/03
I start watch at 6:00 am - 9:00 am. Oil rigs are everywhere. I straighten up the deck and lines and try to get the boat looking good for arrival. Helicopters are flying over, bound for the rigs. Looks like home - green, then brown water, helicopters and oil rigs. I can only imagine that the boat must wonder what wicked fate has removed her from the splendor of Palm Beach and Ft. Lauderdale only to be ultimately placed in the plate of brown gravy called Lake Pontchartrain.
Sun comes up over several showers and clouds to the southeast - pretty. At 7:15 CST a vivid rainbow appears directly on my heading to Cat Island and Mississippi Sound which is now only 54 miles away. I am struck with emotion about the thought of the spectacular rainbow that appeared a few years ago over the exact spot in the BVI where we put mother's ashes to rest in Sir Francis Drake Channel, and now a stunning rainbow to welcome me home to Mississippi Sound directly over where mother sailed her own gaff rigged catboat in her youth. I hope she can see this homecoming. She would have been more excited about this than anyone!
It feels as though we'll be in New Orleans in short order, seeing all the oil rigs, but at 7 knots it will be midnight before we are. All day we make way up to and through the Cat Island Channel, and then up to the mouth of the Rigolets where we enter at sunset. We pass through the railroad bridge and then the Highway 90 bridge, and seems we are home free.
We can smell the marsh and the mosquitoes are biting. A few more bends and we will be in Lake Pontchartrain. But the last bend of the Rigolets reveals a frenzied swarm of dozens of shrimp boats of all shapes and sizes going in every direction at once. It is shrimping season in full swing at about 10:00 pm and it presents the most challenging gauntlet of the trip by far.
I was at the helm and weave my way through boats, nets and channel markers at very close proximity. Captain Scott is very animated, and barks constantly (sometimes the last thing you need in a crunch). I make it through the maze and into the small channel that leads around the "middle ground" shallows and into Lake Pontchartrain. We are all tired and let's just say the Rigolets has produced some tense moments and the only raised voices of the trip.
Once into Lake Pontchartrain, it is as smooth as can be. We motor to the south-southwest and down along the eastern shore to New Orleans Lakefront Airport, dodging crab pots much of the way. I relinquish the helm to Captain Scott considering we had no Prozac on board and the helm seems all that will quell his anxiety.
Bally's Casino Riverboat, with its huge, lighted name in red guides us to South Shore Harbor. The marina is so calm that the water has not one ripple upon on it. We motor up to the slip, cut the engines and Indigo Moon sits completely still without the help of so much as one line. We make her fast to the dock and are safely home. It is a thankfully peaceful ending to a successful delivery and the beginning of a new chapter in our lives.